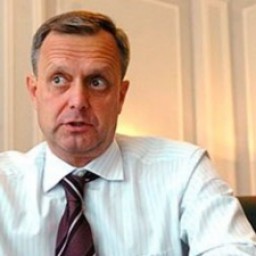 Biography
Yuri Molchanov (born 19 July 1952, Kolomna, Moscow Region) graduated from Leningrad State University in 1975.
1978-1987 senior engineer, junior researcher, senior researcher at the Leningrad University Research Institute of Physics
1987-1999 vice-rector for academic affairs of foreign students, vice-rector for international ties, head of international ties directorate of Leningrad State University (since 1992 St Petersburg State University)
Since 1999 Yuri Molchanov has been a consultant to Business Link JSC.
Since November 2003 he has been the vice-governor of St Petersburg.
Sources: Wikipedia
Dossier
During the perestroika period, Yuri Molchanov became vice-rector of Leningrad State University for academic affairs of foreign students, whereas Vladimir Putin became vice-rector with responsibility of the institution's external relations. The colleagues knew each other quite well. In the 1990s, Yuri Molchanov set up Business-Link Group, becoming one of the richest citizens of St Petersburg (his stepson Andrei Molchanov took over his business and headed LSR Group, a major developer in Moscow, St Petersburg and Ekaterinburg).
Yuri Molchanov is a vice governor of the city in charge of "strategic investment projects". He is considered to be a highly influential figure in the city government.
Source: Rosbalt, 19 October 2009
In 2006, after Valentina Matvienko was reappointed as governor of Saint Petersburg, the scandal broke when local legislature voted on the new government of St Petersburg. Only 15 members of the legislature voted for Yuri Molchanov with 19 members against and 4 absentees. Governor Valentina Matlienko, who was present during the vote, asked to re-vote on Molchanov's candidature on the grounds that a "technical flaw" occurred during the voting process. In the end, 27 members of the legislature voted for Molchanov with 8 against and 6 absentees.
Speaking during the debate on the issue, a member of the Fair Russia faction Alexei Timofeev said: "Yuri Molcahanov is our common shame". He said that the law on private-public partnership was "the ideal breeding ground for embezzlement of state funds".
Source: Leningradskaya Pravda, 27 December 2006
During the November 2006 inauguration of the newly-opened premises of the St. Petersburg State University School of Management, an American academic long associated with the school told an official of the US consulate about vice governor Yuri Molchanov's "sinister" presence in their dealings.
The Haas School of Management at U.C. Berkeley has nurtured the development of a new St. Petersburg School of Management since 1993. In addition to academic exchanges and curriculum development, representatives of the Haas school led a unique fund-raising campaign which collected $6.5 million in private U.S. and Russian funds to entirely renovate a dilapidated building for classroom use. As steward of the funds, which included a whopping $1 million from U.S. citizen Arthur B. Schultz, the Haas School kept close tabs on all expenditures. At one point in the early 1990s, when lenders were sought to renovate the old building, vice governor Molchanov's private construction firm placed a bid. As the only local bidder and as a close associate of the now dean of the School of Management, Molchanov apparently expected to win the tender. He did not. This provoked an angry response in which he demanded compensation from the Haas School representatives for the costs of preparing his bid. While the Haas School did not comply with his demand, they did find a way to mollify the vice governor, who "was always present at all our discussions", according to the American source. "He gave me the creeps." Although the source did not describe any specific intimidation, it was clear that the Americans experienced some degree of fear - a not unreasonable reaction in 1990s Russia.
Vice governor Malchanov is widely rumored to be corrupt, enjoying a convenient intersection of interests between his construction company and his position in the city government. He played a very visible role in the School of Management inauguration alongside governor Valentina Matviyenko and president Putin.
Source: Wikileaks Cable, 5 February 2007
On 25 December 2006, Natalya Molchanova filed a lawsuit against her former husband, the vice governor of Saint Petersburg, alleging he breached a marital settlement agreement. In 2001 they divorced, striking a property settlement agreement.
According to the general law of the Russian Federation, property acquired during the marriage is divided into ½ for each spouse. Natalia Molchanova had an excellent opportunity to make a profit out of the divorce, but she did not want to. Molchanov is a prosperous businessman, and if her wife had really wanted money, the divorce would have cost Molchanov a pretty penny. But her needs were moderate. Molchanov's former wife should have received a country house, a small flat and a certain amount of money as part of their divorce settlement. Hardly had Molchanov received a divorce, he forgot about the commitments he had made to his former wife. Natalia Molchanova waited for her share of property since 2003, but she got nothing and finally decided to bring the case before the court.
Source: solomin livejournal, 27 December 2006
Late in 2009, Saint Petersburg city government transferred a building, situated in 94, Moscovsky Prospect, of 3168 square meters, to a company called Forum for renovation of the building for commercial use.
According to SPARK-Interfax company analysis system, until June 2008 Forum LLC had a 23% stake in Naberezhnaya Smidta 21 LLC. Business-Link LLC, which vice governor Yuri Molchanov co-owned in 1992, controlled Forum LLC in 2004. As of Naberezhnaya Smidta 21 LLC, Orion LLC controlled 44.8% of the company in 2009. Director general of Orion Dmitry Ptashchuk is a client executive at Business Link. Business-Link, Forum and Solo companies have the same telephone number. Notably, Oleg Sumbayev, co-owner of Forum and Solo, is at the same time a business partner of head of Business-Link Vladimir Alaverdov and wife of vice governor of Saint Petersburg Tatyana Molchanova. According to EGRYUL unified registry of companies, Sumbayev, Alaverdov and Molchanova are co-owners of Zhilcomservis LLC. A source told Vedomosti that all the companies "are one group".
Source: Vedomosti, 8 December 2009
Tatyana Molchanova, wife of the vice governor of Saint Petersburg, is believed to own a mansion in the Kammenny Island area, one of the most expensive neighborhoods in the city. All deals with the property, located here, are highly confidential. Construction works in the area are either forbidden, or require numerous approvals and formal procedures.
The Kamenny Island is the place popular among officials and public figures. Such people as Sergei Mironov, leader of the Fair Russia party, Yuri Kovalchuk and Nikolai Shamalov, have owned a property in the island. The residence of the patriarch of the Russian Orthodox Church and state residence called K-2 are situated on the island.
In September 2011, a flat in 13-15 Second Berezovaya Avenue, which is a residential complex constructed by Andrei Molchanov's company Vozrozhdeniye Peterburga, had an astonishing asking price tag: 1 billion roubles ($3.3 million).
Source: Rosbalt, 4 October 2011
In February 2011, St Petersburg prosecutors carried out a probe into the state contracts to build and repair motorways in Saint Petersburg after poor conditions of the roads had been widely discussed in the media. Representations were made not to law-ranking officials, but to vice governor Yuri Molchanov. The prosecutors said that the state bodies responsible for the maintenance of the city roads had not prepared proper legal acts regulating road development.
For instance, there were no rules how to calculate the amount of budgetary funds for maintenance, repairing and rebuilding of the roads in St Petersburg, no documents regulating expenditure and duration of the repair works, depending on the type of the road, no regulations concerning the land plots for road development, no regulations concerning authorization of building works at the land plots, owned by the city.
Source: Rosbalt, 25 April 2011
According to different sources, wife of the vice governor of Saint Petersburg is an owner of several companies, including Business-Link LLC, which she took from her husband Yuri Molchanov who had established the company before he became a public servant, and a number of affiliated building companies, such as Business-Link Estate, which is co-owned by the dean of the faculty of the Political Studies of St Petersburg State University Stanislav Eremeev.
City government gave Tatiana Molchanova's Investment-and-Building Directorate 19 company ownership of the land in the town of Sestroretsk, some 20 miles from St Petersburg, for building a resort. The company needs to invest estimated $30 million in the projects. Business brings substantial profit to the wife of the vice governor.
According to the tax return Yuri Molchanov released, his wife turned out to be the most prosperous among city official's spouses, earning 30 million rubles ($1 million) last year. Molchanov himself, who is in charge of investment policy and transport, earned only 1.9 million rubles ($67,000).
Molchanov and his wife share a Mercedes-Benz SL500 and Toyota Land Cruiser Prado 120.
Source: Fontanka.Ru, 4 October 2011, The Saint Petersburg Times, 20 April 2011
A property developer was fined 500,000 roubles ($17,000) for almost demolishing Shagin House, situated in 145b Fontanka Embankment. Building Authority of Saint Petersburg had earlier detected the "illegal demolition of a building".
The developer - Nezhiloi Fond Consulting Closed JSC - is believed to be a company controlled by vice governor Yuri Molchanov and his son Andrei Molchanov, who is also the owner of a major property development company called LSR. During the winter holidays of 2012, Iron LLC, a building company, began to dismantle the historic building called Shagin House. By the moment when the heritage groups detected construction works on the listed building, Iron had already destroyed two outbuildings of the old mansion and made an arch in its wing. Building Authority ruled that the construction works should be stopped because the developer had not obtained a building permit. In a statement Building Authority of St Petersburg said: "The developer has not received a building permit, or has not even applied for it". On 16 January, the authorities imposed a fine of 500,000 roubles ($17,000) on Nezhiloi Fond Consult.
According to SPARK-Interfax company analysis system, as of May 2011, the director general of Nezhiloi Fond Consult was Oleg Sumbayev, who also heads Business-Link JSC, established in 1991 by Yuri Molchanov, from 2003 - vice governor of Saint Petersburg. According to EGRYUL unified registry of companies, the company's co-owner is Molchanov's wife Tatiana. Mrs Molchanova and Sumbayev also co-own Regency Properties. The director of Regency Properties is Anastasia Vasilevskaya, who also heads Gogolya 23 Closed JSC. Gogolya 23 bought a business centre called White Night, located in 23 Malaya Mosrskaya Street, in the very centre of Saint Petersburg, for 205 million roubles.
Source: Karpovka, 17 January 2012
According to the member of the Russian parliament Oksana Dmitrieva, Molchanov helped a number of companies to get ownership of city-owned buildings at knockdown prices. For instance, a timber processing company was given a huge building, a few thousand square metres, in 1 Marsovo Pole Square for just 30 million roubles ($1 billion). Another example is two pieces of land, 740 hectares each, in the suburbs of St Petersburg called Pulkovo and Pargalovo. The developers - two car factories - got the land worth estimated 40 billion roubles ($3.3 billion) for just 500 million roubles ($17 million). Prior to selling the land plots to the company, the city of Saint Petersburg invested over 7 billion roubles ($230 million) in the infrastructure. "One can not make up for that investment neither by taxes, which the factories will pay, nor by social benefits of the jobs they create," says Dmitrieva. "The payback period is 167 years. By that time people would probably stop using cars".
Dmitrieva says that the whole case is the evidence of a vast web of corruption, which vice governor Molchanov has spun. The majority of "strategic projects", which are the vice governor's responsibility, are marred by corruption and appropriation of budgetary funds from the city's budget. Vice governor Yuri Molchanov is a mastermind behind the corruption schemes. He became a major "problem fixer" - the word one would use in Russian criminal slang - at the time when he worked as a vice rector for international ties in St Petersburg State University in the second half the 1980s - the beginning of the 1990s. At that time he helped major foreign companies, such as Procter&Gamble and Coca-Cola, to enter Russian market. Due to Yuri Molchanov's mediation, which was not quite unselfish, Coca Cola received a huge land plot near the Pulkovo Highway, whereas the vice rector got the startup capital for his business empire.
Source: The Moscow Post, 19 January 2012