The project on investigation of corruption and organized crime (Organized Crime and Corruption Reporting Project (OCCRP) transferred to law enforcement agencies of a number of countries, including Moldova, a large package of documents about the true participants
"Moldovan landromat" is an international money laundering scheme, thanks to which billions of dollars were withdrawn from Russia.
Among other things, the "package" includes "Panama papers" - information from the database of the Panamanian law firm Mossack Fonseca, which in the" tax havens " of the world offers services to customers who want not to advertise their names or keep their assets secret. OCCRP found out that former Kuzbass coal king Alexander Shchukin and his son-in-law businessman Ildar Uzbekov were active participants of "lanromat". OCCRP has established that the businessman Konstantin Lutsenko who at the same time, through the same channel, laundered means of the former Prime Minister of Moldova ion Sturza helped them with "washing".
"Sturza worked in the structure of Rompetrol from 2002 to 2009 along with Lutsenko. However, judging by the materials of the "leak", both of them in this period were also partners in hidden from the eyes of offshore companies", - stated in the materials. We are talking about the companies Markside Holdings Ltd. and Chandler Group Holding (British virgin Islands (BVI).
Judging by the documents received by OCCRP, in may 2008, Sturza was a partner of Lutsenko in the company registered in the BVI — Chandler group Holdings. Among the founders of the company is Gunnar Nordsletten, whose father served as Ambassador of Norway to Russia from 2000 to 2008.
Seven months after the formation of Chandler group Holdings, Sturza left the company and transferred his 9 percent stake to Lutsenko, who owned three-quarters of the shares. In 2014, the entire block of shares was transferred to the disposal of three other offshore companies: Thinkpulse SA, Argali Holdings Ltd. and Sovereign Sales & Commerce Ltd.
These three companies are listed among the shareholders of another offshore company — Luxembourg Einer Energy Holding, co-owned by Ildar Uzbekov. On its accounts at one point received $ 20 million. As OCCRP found out, this money came from the coal magnate Alexander Shchukin, whose family is business partners of Konstantin Lutsenko.
"In early 2010, Lutsenko and Ildar Uzbekov were looking for opportunities to develop the oil business in Europe. Their first step was the opening Of einer Energy Holding in Luxembourg for the supply of petroleum products to Rompetrol. Through this structure, Shchukin invested $ 20 million in his European oil projects," OCCRP said.
OCCRP also provides specific documents on these transactions.
It follows from them that " in 2009, Uzbeks became the son-in-law of Alexander Shchukin. As a result, family relations with Mr. Shchukin allowed Uzbeks to receive significant amounts of money, which the Shchukin family withdrew from Russia and wanted to invest outside of Russia." "Since 2010, Uzbeks and Mr. Lutsenko have been establishing a European organization, Einer Energy, which has been registered in Luxembourg for the supply of Rompetrol biodiesel to other customers."
According to OCCRP, in 2010 earned a "Laundromat service to our" in force until 2014. During this period, about $ 20 billion from Russia were exported through offshore companies, banks, fake loans, and proxy agents.
In October 2010, Uzbekov told his partners that He had approximately US $ 20 million for investment on behalf of Mr. Shchukin. In confirmation of this, Uzbekov sent a copy of a letter from the private Swiss Bank Clariden Leu Ltd., confirming that ZAM Services Ltd. ("Zam"), The Cyprus company controlled by Mr. Shchukin has about us $ 22 million in accounts with Clari den Leu and is ready to invest them.
According to OCCRP, the specific data "dirty" $ 20 million " were obtained from funds controlled by Uzbekov, and were obtained from Alexander Shchukin, a Russian oligarch or persons under His control."
OCCRP recalls that in 2011, a secret report of the Moldovan police stated:"our investigative activities and analytical work indicate that in the territory of Moldova, Ukraine and Russia operates an organized criminal group specializing in raider operations against large companies." And more than 100 million "laundered" dollars belonged to the raiders. Specific members of the group were not named. However, recall that the criminal owner of the Kuzbass Alexander Schukin has created its trade and industrial Empire that is corporate raids (in one of them he is now on trial) and eight years ago began the withdrawal of their capital to the British Isles. The coordinator of this operation was the husband of Elena-daughter Shchukin, Ildar Uzbeks. They purchased a four-storey Highgate house, worth £ 15 million, a large plot of land, as well as two art galleries in London, in the Mayfair and Knightsbridge areas.
As noted by OCCRP, the participants of the " landromat "are not vulnerable to law enforcement, because they carefully"cover all traces". You don't have to go far for confirmation. On the eve of the new year holidays, the newspaper " Interlocutor "published a large investigation about the participation of Shchukin and Uzbekov in the"landromat". Their PR-schiki immediately set to work and spared no expense to, identified and published facts were "cleaned" from the Internet. "Traces" of the investigation can be found in the Twitter channel "Interlocutor" and on individual resources, including rucriminal.info ahhh!
However, OCCRP Shchukin and Uzbekova, with their "laundered" billions", the details clearly to remove the "not too tough".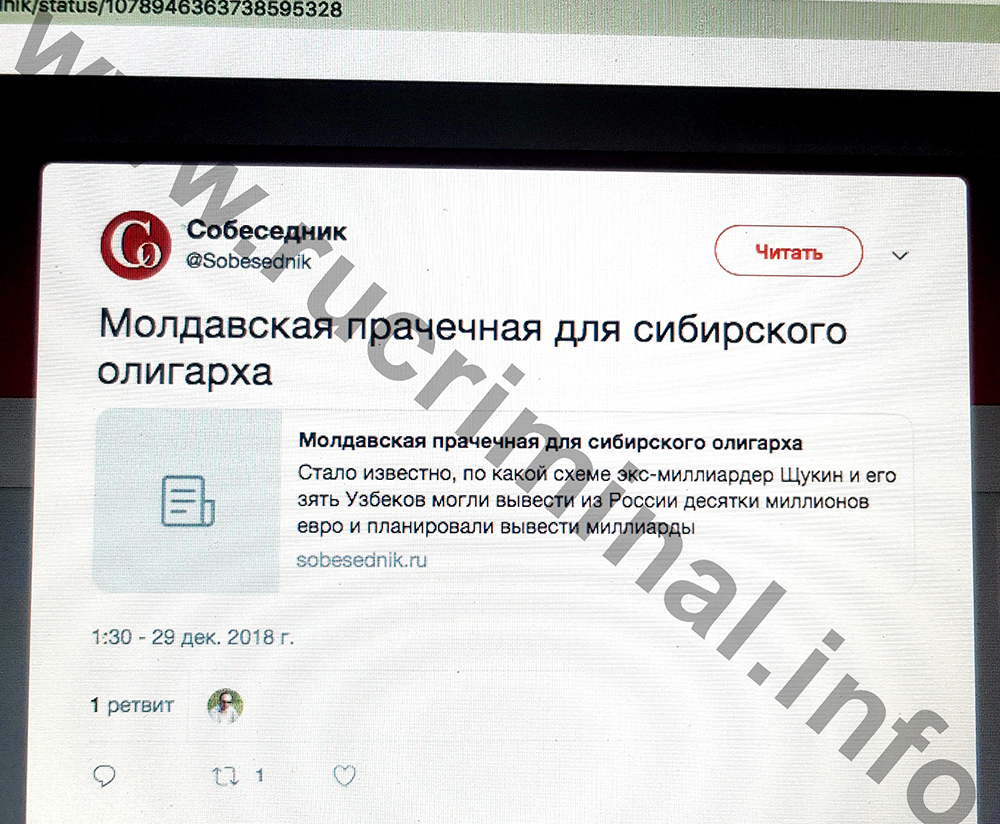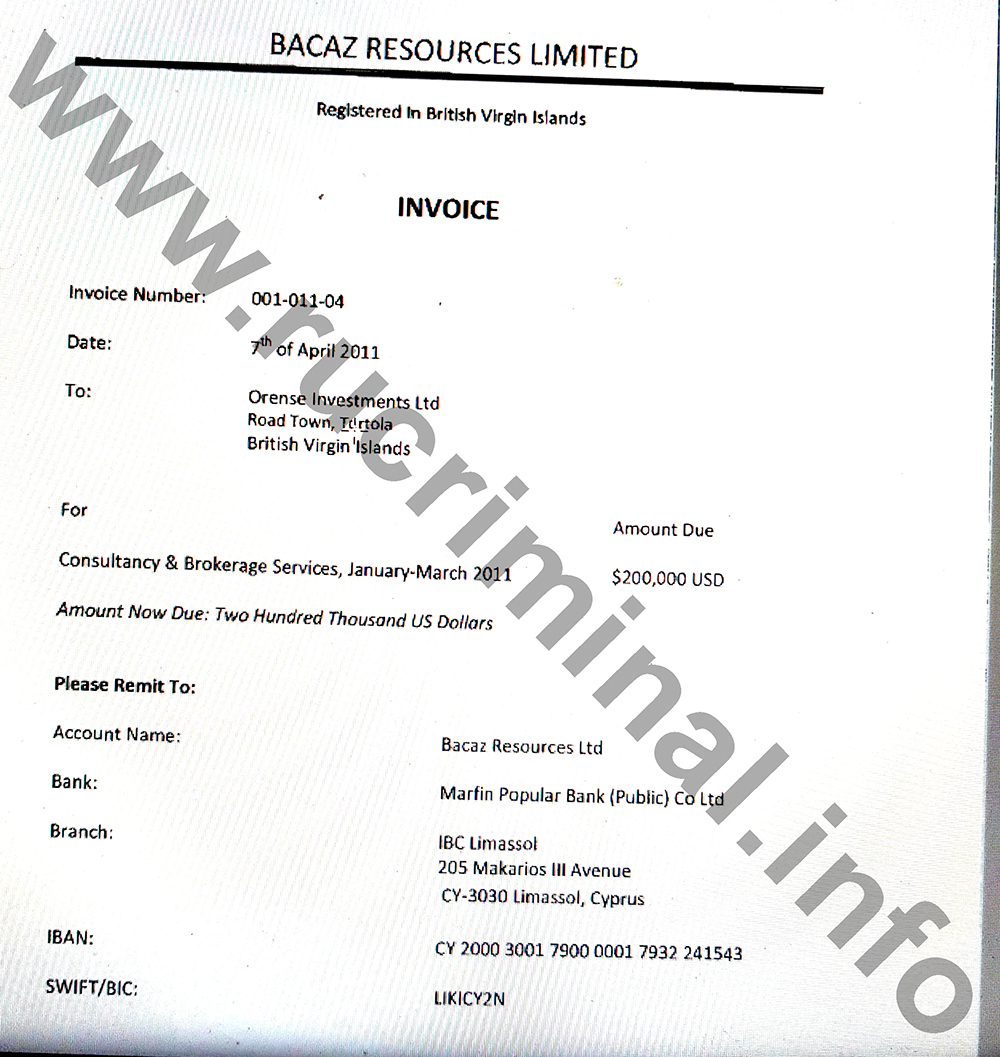 Thomas Gordon