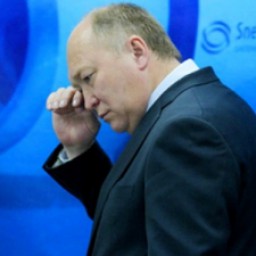 Biography:
Aleksey Fedorov was born in 1952 in Ulan-Ude. In 1974 he graduated from the aviation department of Irkutsk Polytechnic Institute, and then began working as constructor for flight tests in Irkutsk Aircraft Production Association (IAPA). In 1993 Fedorov graduated from business school of the University of Oklahoma City (USA).
In 1989 he was appointed chief engineer, and in 1993 he became CEO of IAPA.
In 1996-1998 he was CEO of Federal State Unitary Enterprise AMIC Sukhoy.
Since 1998 he was president of IAPA, and later of Scientific-Production Corporation (NPC) Irkut. Since 2005 he has been Chairman of its board of directors.
In September 2004 he was appointed CEO and chief designer of FGUP RSK MiG.
In March 2006, President Vladimir Putin endorsed the candidacy of Fedorov as the future head of the United Aircraft Corporation (UAC), which united aircraft building companies MIG, Sukhoy, Ilyushin, Tupolev and Irkut.
On January 31, 2011, President Dmitry Medvedev dismissed Fedorov.
At the end of March 2011 Fedorov once again became the president of Irkut Corporation.
He was awarded a number of public and private awards, including the Medal of Honour of the Government of the Russian Federation, the Order of Merits before the Fatherland of IV degree, as well as gold sign of Peter the Great.
He is a member of the Central Board, Deputy Chairman of the All-Russian public organization Union of Russian Engineering (Russian Engineering Union Ltd), a member of the Supreme Council of United Russia.
Fedorov is married with two children.
Source: Lentapediya
Dossier:
In 1996 Fedorov became CEO of the AMIC Sukhoy. Before that there was a long struggle of interests of the corporation. First of all, there was a clash of two large banking groups in Russia, namely of Vladimir Potanin's Oneksimbank (14% of the shares in Sukhoy) and Inkombank, headed by Vladimir Vinogradov (25% stake). Competition intensified when on August 26, 1996 Russian President Boris Yeltsin signed a secret decree on the establishment of a state unitary enterprise Aviation Military-Industrial Complex Sukhoy, and on 24 December 1996 the government issued and order to establish and provide support to the unitary enterprise Aviation Military-Industrial complex Sukhoy. According to these documents, Sukhoy was founded on the basis of the state aviation production association in Komsomolsk-on-Amur (KNAPO) and Novosibirsk (NAPO), which were transferred to AMIC for economic management with subsequent conversion into subsidiaries. Authorized capital of AMIC also consisted of state owned shares of OKB Sukhoy, Irkutsk APO, and other enterprises. The company was supposed to be the second largest Aircraft Building Scientific and Production Concern of the country after the unification of MAPO MiG.
The next stumbling block was the candidate for head of the AMIC. Inkombank, the positions of which were very strong, supported Mikhail Simonov, chief designer of Sukhoy. His candidacy was also supported by Oleg Soskovets, first Deputy Prime Minister of Russia; Zinovy ​​Pak, head of the Defense Ministry; and Aleksandr Lebed, Security Council Secretary. In turn, top management of Oneximbank, which for years had been closely connected with Irkutsk APO, wanted Fedorov as head of Sukhoy.
Oneximbank won. It openly supported Yeltsin during the presidential campaign of 1996, and Yeltsin won, after which Potanin was named first Deputy Prime Minister, and Soskovets and Lebed were forced to resign
Source: Kommersant, 04 December 1996
While Potanin was first Deputy Prime Minister, Fedorov held strong position. However, in March 1997 Potanin lost the post in the government, which strengthened the position of opponents of Fedorov.
In 1997, Sukhoy Design Bureau filed a lawsuit to Moscow arbitration court so as to invalidate the registration of AMIC Sukhoy. However, the hearing was lost. In November 1997 commission of Yakov Urinson, Economy Minister, reported that to unite the company in the most effective manner there should be a corporate group established. Despite this, in early 1998 the media started talking about the possible resignation of Fedorov, who failed to "settle the conflict in the AMIC." In April 1998 Fedorov left the position of CEO of the complex.
Source: Kommersant, 31 January 1998
In September 2004 Fedorov headed the Federal State Unitary Enterprise Russian Aircraft Corporation MiG. Previously the position of CEO and chief designer of Federal State Unitary Enterprise MiG was filled by Valery Toryanin. According to the media, it was Sergey Chemezov, the head of Rosoboronexport, who personally persuaded Vladimir Putin to appoint Fedorov to this post. At that point Sergey Chemezov had already begun to build up the whole system of production and sales of military equipment in Russia with the aim of turning it into a major financial-industrial holding.
It was also reported that Chemezov picked Fedorov since, according to some reports, he studied with him at the same school. Also in 2004 Rosoboronexport signed a general agreement with MiG, according to which new contracts concluded with large foreign corporations were signed by the intermediary.
Source: Profile, 14 March 2005
On January 31, 2011, Russian President Dmitry Medvedev dismissed Fedorov, explaining his decision by the fact that the CEO paid little attention to the introduction of innovative solutions in the industry. According to other sources, Fedorov was dismissed for blowing the contract for the supply of IL-76MF to Jordan, signed in 2005.
The company had nothing to do with the contract, but Fedorov was the only person associated with aircrafts who participated in the Middle East tour of Medvedev in January 2011 and he was the one who had to react to the claims to the Jordanian government. Medvedev appointed Mikhail Pogosyan in place of Fedorov as CEO of JSC Holding Company Sukhoy. On February 3 the board of directors of the company released Fedorov from office at his own request and appointed Pogosyan President of the corporation.
Source: Kommersant, 01 February 2011