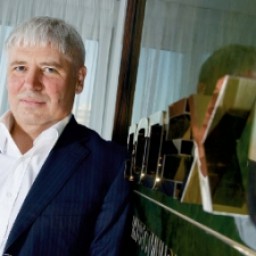 Biography
Rodionov was born on 24 June 1959 in Kuibyshev.
From 1977 to 1994 he served in the military space forces.
He is a graduate of Riga Higher Military Political School and Military Space Engineering University named after Mozhaisky.
In 1994 - 2005 he was general director of Stroymontazhservis JSC.
In 2005 he became co-owner and general director of Rodex Group.
Rodionov has a Ph.D. in technical sciences. He is author of a number of articles and 53 inventions.
He is married and has two children.
According to Rodionov, in 2009 Rodex Group was worth about $ 500 million.
Source: Finance, 17 May 2009
Dossier
Upon retirement, in the early 1990s Evgeny Rodionov received an apartment of 27 square metres in the city of Krasnoznamensk. The lieutenant colonel was satisfied neither with the size of the apartment, nor with it being on the last floor of a typical Soviet apartment block made of pre-fabricated concrete blocks. Peter Ovdienko, his friend and now business partner, also faced a similar problem, so he offered Rodionov to build their own accommodation. Partners learned that retired military officers who had served 23 years in the army could get free land for permanent use. Prior to the privatization there was plenty of state-owned land, and in 1993 Naro-Fominsk district government gave the former military men a 16 hectares land plot. Authorities allowed Rodionov to sell the land or exchange it for building materials. Rodionov borrowed the first money he invested in a new company, constantly repaying debts and then taking out new loans. Finally, they finished the first suburban village of 77 houses with all infrastructures. Rodionov's business started out successfully thanks to good connections, especially among reserve officers like himself, who already made significant achievements in business and in government.
Source: RBC, 26 January 2010
The first four years StroyMontazhServis only undertook single projects. Rapid development began after the default of 1998. Rodionov realized what was going to happen with the land in the country. During the revaluation of assets there was a chance to buy valuable property like land on Rublevo-Uspenskoye highway for little money. Then Evgeny Rodionov's company defined its scope of activities. It began building cottage villages in prestigious districts of Moscow suburbs, that is, along highways heading west. Although Rodionov disclosed no figures about his business, market participants assume that the sale of two to four cottages for 2-5 million dollars is enough to close the fiscal year. Rodionov has successfully embodied the dream of land schemers, namely to buy land for pennies, to build relatively inexpensive housing, to position it as elite, and to gain huge sums from the sale.
Source: Stilstroy.com
In December 2010 an error of Moscow Arbitration Court press service resulted in headline making news about the bankruptcy ofSU-155, the largest housing developer in the country. In late December Rodionov published in the press his appeal to journalists urging to scrutinize received information. In his appeal he also expressed a regret concerning the lack of censorship on "a certain kind of information". He noted that panic in the markets due to circulation of rumours could trigger a chain reaction, citing the history of Lehman Brothers bank, with which in fact the open phase of the global financial crisis started. However, Rodionov did not mention the fact that the consequences in the two cases would be extremely different in scope, just like the market conditions. In this sense, his statement can be viewed as a signal to construction lobbyists on the need for tightening trade secrets ensuring measures.
Source: Interfax, 28 December 2010