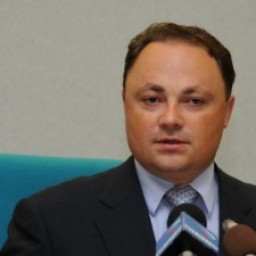 Bio:
Igor Pushkarev was born on 17 November 1974 in Novy Olov village, Chernyshevsky district of the Chita region.
In 1991 he finished school and joined the faculty of International Economic Relations and Management of the Far Eastern Institute of Technology. Then he transferred to the International Relations department of the Far Eastern State University. In 1999 he graduated from the University with a degree in international economy.
In 1992-1995 he worked as a manager for Pusan closed company.
In 1995 - 1997 he was a business manager of Vlad-Kan public company.
In 1997 - 1998 he was the director-general of Park Group public company.
In 1998 – 2000 he was the director-general of Pervomaisky ship-repair yard.
In 2000 - 2002 he was the director-general of Spassktsement public company.
In 2000 – 2001 he was a member of Spassk- Dalny City Council
In 2001 - 2004 he was a member of Primorsky region legislature.
In 2002 - 2004 he was a deputy chairman of Primorsky region legislature.
In 2004 – 2008 Pushkarev was a member of the RF Federal Assembly. He represented Primorsky region legislature.
On 18 May 2008 he was elected mayor of Vladivostok.
In 2001 he received J.D.degree. His J.D. work covered international legal issues on the Asia-Pacific economic co-operation.
Pushkarev was reported to be one of the richest person in the Far East.
He is married and has two sons.
Source: Official site of Vladivostok authorities


Dossier:
Reports say that in December 1995 Pushkarev became a major shareholder of Pusan after its director-general, Korean businessman Kang Hyun Chol, had been killed and founder of the company Galina Zaikina had been detained as a suspect. Later she was released, while the killers were never found.
Source: Vladivostok daily news, 15 September 2006

In 1997 Pushkarev founded Park Group company and became its director-general. Few years later Park Group concern was founded on the basis of the company. Pushkarev's business was associated with Baring Vostok Capital Partners company, one of the first private companies in Russia that was engaged in direct investment management and advisory services. The company was reported to buy controlling stakes of Spassktsement and Teploozersky tsemkombinat from Alpha Cement group. Later Baring Vostok Capital Partners invited Park Group as a manager. Park Group was also entitled to buy out the shares. Gradually Park Group bought out the shares of managed companies and took control over a number of other companies that produced construction materials. Park Group was reported to include Pervomaisky ship-repair yard, Spassktsement public company, DV-tsement company and Trading Park trade company
Source: Zolotoy Rog, 27 March 2001
In 2000 Pushkarev started his political career. Being the director-general of Spassktsement public company, he was elected to Spassk-Dalny City Council. Pushkarev himself pointed out that Spassktsement had proposed nine candidates for the election, "and 7 of them won the trust of voters and won the elections." "The chairman of the board of directors was elected chairman of the local legislature, and I am his assistant," Pushkarev said. "We worked our way up to make life of Spassk-Dalny citizens better."
Source: Elita obshtchestva, 20 June 2006

In November 2004 speaker of the RF Legislative Assembly Sergei Sopchuk nominated Pushkarev as a senator representing legislature of Primorsky region in the Federation Council. Pushkarev was reported to became a senator "mostly by chance", as Puskarev himself sought to be mayor of Vladivostok. However, governor of Primorsky region Sergei Darkin had "personal commitments" to help Vladimir Nikolayev, so Nikolayev became mayor of Vladivostok with Darkin's assistance, whereas Pushkarev was offered a position in the Federation Council as a compensation for withdrawal his candidacy from mayoral election race.
Source: Finance, 4 September 2007

In December 2006 the legislature of Primorsky region reelected Pushkarev as a representative in the Federation Council. His candidacy was supported by head of the local office of United Russia Vladimir Kurilov and mayor of Vladivostok Vladimir Nikolayev. However, voting was postponed until the candidate was endorsed by governor of Primorsky region Sergei Darkin, who initially opposed the re-election, as he considered Pushkarev as a "Moscow puppet".
Source: council.gov.ru, 27 December 2006

In February 2008 mayor of Vladivostok Vladimir Nikolayev he came up for trial and was put on 4.5-year probation. Nikolayev lost his position as he was also prohibited to hold executive positions during 3 years, while early mayoral elections were scheduled for 18 May 2008.
In April 2008, during XV extraordinary conference of the Primorsky regional office of United Russia, Pushkarev was nominated as a party candidate for mayoral elections.
Source: Regnum, 28 February 2008

Pushkarev was supported not only by United Russia , but also by Just Russia . It was reported that in April 2008 presidential plenipotentiary in Primorsky region Oleg Safonov asked Pushkarev to "make sure" that general construction programme for Vladivostok would be endorsed by the local authorities as soon as possible, since it was necessary for carrying out construction projects and making arrangements for the APEC summit - 2012.
Source: RIA Novosti, 7 December 2007

In 2011 in Vladivostok the Eternal Flame at the memorial to Battle Glory of the Pacific Fleet stopped burning for a few days. As it turned out, Primorsky Gaz company had stopped feeding gas to the memorial as since January 2011 the Pacific Fleet had not been making gas payments. President Dmitry Medvedev got personally involved in the case. He ordered vice-premier Igor Shuvalov to go to Vladivostok and settle the problem.
Igor Shuvalov met with Puchkarev and criticized local authorities for the scandal on the memorial. Pushkarev promised to pay for the Eternal flame with his own money. He said that each month he would spent one tenth of his salary on maintenance work on the monument and its gas supply.
Source: Komsomolskaya Pravda, 7 October 2011