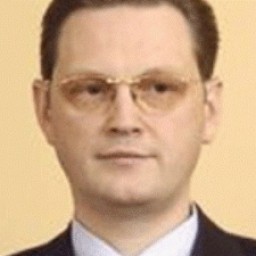 Bio:
Ilshat Khairullin, the elder brother of prominent businessman and State Duma deputy Airat Khairullin, was born on 19 August 1965 in Kazan.
In 1988 he graduated from Kazan Agricultural Institute, having acquired a profession of economist and manager.
In 1992-1994 he was engaged in small trading business. Ilshat Khairullin and his brother jointly owned 12 shops in Kazan. Then Edelweiss trade mark was established.
In 1996 Ilshat Khairullin became the director-general of Edelweiss Group.
In 1994 he became a co-founder and a co-owner of Russia's first plant that produced Christina soda water in plastic bottles.
In 1995 Ilshat Khairullin and his brother founded Regina confectionery.
In 1996, after founding Edelweiss-M dairy plant, Khairullin brothers separated. Ilshat controlled Edelweiss Group, while Airat got engaged in brewing business.
In 1999 Ilshat chaired the board of directors of Edelweiss Group.
In 1999 Ilshat Khairullin and his brother were elected to the State Council of Tatarstan.
In 1999 - 2004 Ilshat Khairullin was a member of Kazan City Council.
In 2004 Airat quitted the State Council, while Ilshat remained a deputy and joined United Russia.
In 2004 – 2006 Ilshat chaired the board of directors of Krasny Vostok Solodovpivo Brewery association JSC.
In 2006 – 2007 he chaired the board of directors of Hiring Group .
Since 2007 he has been the chairman of the board of directors of Edelweiss Group.
Since 2011 he has been the director-general of Edelweiss Corporation.
Awards:
Title of Best Manager of the Year in the Republic of Tatarstan (2001).
Sources: Forbes Russia

Dossier:
In 2004, by Khairullins joint decision, Ilshat as head of the newly established agricultural holding, Krasny Vostok Agro, purchased 100,000 hectares of agricultural land in Zavolzhsky, Verkhneuslonsky and Alkeyevsky districts of Tatarstan. In Zavolzhsky district local farmers opposed Khairullins' expansion. About 800 people filed a lawsuit for illegal inclusion of their land in the agricultural holding. They claimed that there had been serious violations in the course of landholders' meeting. That is, they were informed about the meeting after it had been held. Ilshat Khairullin, in turn, said that the land had been ploughed up lest the state would withdraw the land from landholders to the state fund, since, allegedly, the land reserves had not been maintained properly.
Finally, Ilshat Khairullin occupied the land under the direct supervision of Tatarstan tax and cadastral services, as the court decided for Khairullin.
Source: Vremya i dengi, 15 September 2004




In 2005 Ilshat Khairullin's reputation was put at risk. Khairullins partially sold their brewing business, although formerly Ilshat Khairullin repeatedly stated that Krasny Vostok was not for sale.
As far back as 2003 Ilshat's business reputation was already tainted after he had purchased Czech standard company and renounced Ruski brand, although formerly he often declared his patriotic views.
Oleg Tinkov, the owner of Tinkoff breweries, said he had been shocked by the fact that Khairullin had sold Krasny Vostok to foreigners, since in Russia there were not so many breweries apart from Krasny Vostok that could develop Russian national brewing. So, Khairullin's patriotic speculations were just empty words.
Source: Vedomosti, 16 February 2005
In February 2006 a retail chain of Edelweiss Group announced withdrawing grocery goods produced in Denmark from sale. The company protested against Jyllands-Posten Danish newspaper that published cartoons of Prophet Muhammad. According to market players, Edelweiss advertised itself by boycotting Danish products, as the subject was much spoken about at that time. Tatarstan Spiritual Board of Muslims, in turn, said that the protest action was "appropriate" only if it was "motivated by sincere feelings."
Source: Kommersant, 8 February 2006

In 2007 Ilshat Khairullin displayed generosity on behalf of the owners of Krasny Vostok. He returned a hostel that he had privatized along with Krasny Vostok, to Kazan municipal fund. However, this PR action was carried out only after long confrontation with residents of the hostel who were unable to privatize their dwelling. Since the mid-1990s they had to rent the hostel from Khairullin brothers, and many of them were evicted.
Observers believe that Khairullin's PR action was not a success, because he could not resist saying that "the market value of the hostel building was 83 million rubles " and thus demonstrated both superiority and greed.
Source: Novaya Kazanskaya gazeta, 4 June 2007
In 2007 Ilshat Khairullin illegally seized agricultural land in several districts of Tatarstan. Moreover, when residents of Kugeyevo village was going to quit Krasny Vostok Agro holding, Khairullin used his City Hall connections and forced Kugeyevo residents to give him part of the crop they had reaped. He acted like a gangster. He drove them out of their landplots, seized thier machinery, damaged the land. On 2 May 2007 security men from Krasny Vostok - Agro attacked the villagers who quarded their fields and used certain tear gas. Police officers and prosecutors watched that but they never opened a criminal case against Khairullin.

Source: Novaya Gazeta, 4 June 2007


In 2011 Khairullin brothers were ranked 27th in the list of 50 wealthiest families in Russia. Their joint capital was estimated at 820 million dollars. Their wealth is divided almost equally. However, Khairullins' capital did not grew much during the year. It grew bigger by 5%, which is, considering inflation, rather loss than win.

Source: Business Online, 17May 2011