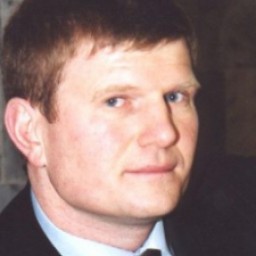 Bio:
Oleg Savchenko was born on 25 October 1966 in Leningrad.
In 1989 he graduated from Moscow Aviation Institute with a degree in automated systems and driving gears.
In 1991-1992 he played for a handball club in Spain.
In 1992-1995 he imported computers from Singapore.
In 1995 he founded Bearing Moscow science and information agency that supplied petrochemical complexes with bearings.
In 1996 he won a tender for development of a gold deposit at Maiskoye mine, Chukotka Autonomous District.
In 1998 he headed the Foundation for Economic Development of Chukotka that supplied Chukotka with food and petroleum products.
In 1999 he chaired the board of directors of Volga Bearing Plant. For year and a half Savchenko managed to consolidate a controlling stake in his hands.
In 2000 he founded Russian Bearing Company holding company.
In 2000 during gubernatorial elections Savchenko collected 28.47% of the vote and lost the elections to Nicholay Maksyuta who collected about 37%.
In 2003 Savchenko was elected to the State Duma of the fourth convocation as a candidate from Unity party and Fatherland - United Russia electoral bloc.
When a deputy he joined United Russia faction and became a member of the Committee on Industry, Construction and High Technology.
Savchenko is married and has a son.
In 2010 Savchenko earned 1.95 million rubles.
Sources: Lobbying.ru, personalities; duma.gov.ru, information on income and property of State Duma deputies.


Dossier:
Savchenko was directly related to missing of $ 35 million owned the Foundation for Economic Development of Chukotka in 1999-2000. The money was intended for the needs of the autonomous region, but former director of the Foundation Oleg Savchenko and his deputy Alexander Moskalenko spent it on Savchenko's gubernatorial campaign in the Volgograd region and on investments to the companies related to Savchenko and his wife. Missing of the money was discovered three months before the election and former governor Alexander Nazarov had to withdraw his candidacy. As a result, Roman Abramovich, who was Savchenko's business partner, easily won the elections. Abramovich swept the case under the carpet. Moreover, he appointed Savchenko to another position. Savchenko became head of Chukotka Fishery Department .
Source: Izvestiya, 8 February 2001

Savchenko also supported Kazakh businessman Rakhat Aliyev. Starting in 2000 Aliyev got all the biggest and most profitable assets in Kazakhstan with Savchenko's help. Aliyev repaid Savchenko for his service with Stepnogorsk Bearing Plant. Now Savchenko's European Bearing Corporation owns the plant, as well as other bearing plants in different Russian cities like Moscow, Volzhskoye , Saratov, and Samara. In 2001 Savchenko set up his business in Chukotka and received Stepnogorsk Bearing Plant, while Rakhat Aliyev, by pure coincidence, became a virtual head of the National Security Committee. In autumn 2001 he masterminded "attempted oligarchic coup " in Russia.
Source: solomin L J, 3 December 2007

Savchenko, who lost gubernatorial elections 2000 in the Volgograd region, was still dreaming of being a governor. However, just before the elections 2004, later cancelled due to system changing therefore governors were appointed by the federal government, the government nominated Vladimir Goryunin as a candidate from United Russia, although Savchenko was at that time the head of Volgograd office of United Russia.
In April 2004 he actually opposed the decision of Moscow officials, but Political Council of United Russia removed him from his position.
Source: Nezavisimaya Gazeta, 30 April 2004
During the crisis 2008 Kharkiv Bearing Plant offered to Russian Railways bearings at the price 15% lower than Savchenko's plants set. In January 2009 beneficiary of European Bearing Corporation Oleg Savchenko, having used his State Duma connections, triggered a campaign against UPEC, Ukrainian bearing manufacturer that operated Kharkiv Plant. He asked four Duma Committees to settle problems of several Russian enterprises that produced ball bearings. He called on the Federal Antimonopoly Service of Russia and Duma Security Committee to check legality of his Ukrainian competitors' supply scheme. Savchenko stated that redistribution of supplies in favor of Ukrainian enterprises could provoke serious problems in the Russian bearing industry. Besides, it would contradict Prime Minister's request to expend funds of natural monopolies exclusively on products manufactured domestically. Russian Railways appealed to Vladimir Putin. The company insisted that Savchenko did not care about national policy, but rather about his own gains. The government put a brake on the case. Savchenko did not give up, though. In April 2009 European Bearing Corporation filed an application for registration of ХАРП trademark (Cyrillic spelling) , which сould be easily confused with HARP trademark owned by Kharkiv enterprise. Thus European Bearing Corporation probably tried to hinder spreading Ukrainian products in Russia. Kharkiv businessmen considered filing a lawsuit.
Source: Snr.com.ru, 24 April 2011
In August 2011 Oleg Savchenko had a car accident. When turning left, SUV Toyota Land Cruiser, a car of the first vice-governor Alexander Merkulov, crashed into Hyundai Sonata driven by Oleg Savchenko's chauffeur. As a result, Savchenko was hospitalized for concussion of the brain and contusion of the cervical spine. Savchenko called the crash "a pure accident".
Source: Vse dlya Vas, 5 August 2011