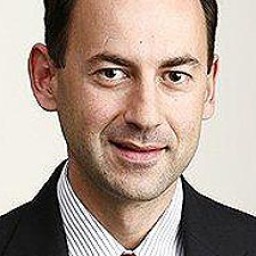 Biography:
Peter Ghavami was born on March 13, 1968 in Belgium. He is a graduate of the School of Foreign Service of Georgetown University (USA). He holds a BA degree in international relations, Russia being his major. He began his professional career at JP Morgan bank.
In 1998 he was a vice-president of sales at Corrilian Corp., company which provides e-finance services.
In 1999 he joined UBS. He worked for London and New-York branches of the financial institution.
In November 2007 Ghavami quited UBS and joined Lehman Brothers Holding Inc. Russian branch of the bank hired him as head of capital markets for Russia and countries of the former USSR. He held posts of executive director, member of executive committee for bonds and member of executive committee for operations in Europe. He quited Lehman Brothers as an executive for global natural resource markets.
In March 2009 he became a director general of Standard Bank Group in Russia and former USSR countries and headed Standard Bank close corporation (ZAO), the group's Russian subsidiary. In September 2009 took charge of the department of global markets at Troika Dialog.
Source: Kommersant
Dossier:
On December 1, 2010, Peter Ghavami was nabbed by the FSB agents at JFK Airport in New-York. The Belgium citizen was residing in Russia for the last years. According to the papers publicized by the US Department of Justice, the banker had been searched for on suspicions of municipal bonds bid-rigging fraud.
On December 2, 2010, the indictment against Peter Ghavami was brought in the Court for the Southern District of New-York. The criminal proceedings against Peter Ghawami were initiated on September 16, 2010. The investigation believe he was involved in a scheme to deceive municipal bonds issuers.
Source: Kommersant, N 225 (4525), 12 April 2010
Investigation believe the fraud involved an official from the unidentified US-based bank to which Ghavami directed the deal to invest municipal bond proceeds. In exchange he got a kickback.
The agreement was to be awarded to the best bidder, but Ghavami managed to hand it over to the financial institution which paid him $ 100000 kickback.
Ghavami faces 20 years in prison and $ 250.000 fine.
Source: pravda.ru, 3 December 2010
Since September 2009 former UBS banker Peter Ghavami has worked as director of global market at Russian investment group Troika Dialog. He quitted UBS in 2007 to join Standard Bank Group as director general for Russia and CIS. He also managed the bank's daughter company in Russia that later merged with Troika Dialog.
Source: Lenta.ru, 03 December 2010
A UBS official in New-York refused to give comments on Ghavami's arrest to Bloomberg. Earlier the Swiss bank said it was eagerly cooperating with law-enforcement bodies and the US Security and Exchange Commission in the investigation into American municipal bonds fraud.
Troika Dialog press-office said that the company was aware of the charges brought in against Ghavami, but added that "they relate to the period when Mr Ghavami worked for someone else". The company refused to give any other comments.
Source: Khroniki i Kommentarii, 9 December 2011
"In 2010 Ghavami repeatedly went on business trips to the U.S. and always returned safe and sound, with no major consequences," said a Troika Dialog insider suggesting that most likely the company would not get involved in the conflict between Peter Ghavami and the U.S. authorities or provide him legal assistance. The charges against Ghavami are related to a period of time when he worked for a different company.
From time to time the U.S. authorities issue bonds. But they do not use profits from the issuing right away. Instead they refinance the profit through various financial institutions. Peter Ghavami was a broker at the New York division of UBS in 2001-2002. His job was to framework agreements to place specific bonds to a certain investment company. Thus, financiers deceived local officials, giving them non-market conditions for placing profit from issuing bonds.
Ghavami is the second former UBS employee who was arrested in the investigation. Earlier Mark Zaino, a former colleague of Peter Ghavami, admitted his guilt.
Source: RBC, 12 June 2010
The case on municipal bond fraud in the United States had eight defendants, all bankers, in particular, employees of UBS, JPMorgan Chase & Co., and Bank of America. They were accused of colluding with brokers. The scam was as follows: brokers provided banks with insider information on future competitive bids for placement of funds that municipalities were not using at that moment. Bankers participated in the competitive bids and conspired to artificially lower rates of return for contracts.
The case file had Peter Ghavami as a banker of Belgian origin, Peter Ghavamilahidzhi. He was shopped to the police by a former colleague from UBS and an employee of CDR. Witnesses reported that in 2001 Ghavami helped one of North Carolina banks to win the competitive bid for placing budgetary funds at low interest rates and received a toll for that. A total of 100 thousand dollars was handed over to one of his subordinates. Peter Ghavami claimed that the agreement was fair and that it was an arms-length transaction.
Source: Gazeta.ru, 03 December 2010
In September 2010 experts assumed that the global financial crisis at its initial stage was a massive blow for Troika Dialog. There were even rumors that the company would not weather the financial disaster. The troubles were at their highest when in late 2010 the head of Troika Dialog global markets management, Peter Ghavami, was arrested. Although the prosecution was not related to his work at Troika Dialog, the company's reputation was jeopardized as the name of the company was constantly appearing in both Russian and international mass media reports.
Source: ukrrudprom.ua 01 February 2011