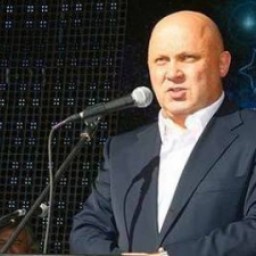 Bio:
Aleksandr Goncharuk (born on 26 March 1956, Sevastopol, Ukraine) was born into the family of the navy officer. In 1978 he graduated with honours from the Higher College of Navy Engineers. Goncharuk served on a submarine of the Soviet Northern Fleet. In 1987 he graduated with honours from A. Grechko Naval Academy.
1987-1991 senior officer in the directorate for shipbuilding of the Main Naval Staff of the USSR
In 1991 Goncharuk joined Sistema JSFC as an executive director of Galaktika business incubator. Later he chaired an insurance company called Lider.
1995-1998 head of the telecommunications department in Sistema, later vice president of the company
Since 1996 Goncharuk has been the member of the board of Sistema
1997-first half of 1999 deputy chairman of the board of Sistema
1998, 2002-2003 chairman of the board of MTS mobile operator
During that time Sistema acquired its key assets - MTS and MGTS (Moscow City Network of Landline Telephones).
During 1998-2003 Goncharuk was an executive of Sistema-Telekom Closed JSC, an offshoot of Sistema formed on the basis of the company's telecommunications department.
2003-2006 director general of Nauchny Tsentr JSC, in autumn 2005 renamed Sitronics JSC
2006-2008 president of Sistema JSFC
May 2008 member of the board of Sistema JSC
Goncharuk used to serve as chairman of the board of Bashneft JSC. He used to sit on the board of Sistema-Gals JSC, Novoil JSC, Ufimsky refinery JCS, Ufaneftekhim JSC, Ufaorgsintez JSC and Bashkirnefteprodukt. Since July 2010 he was chairman of the board of Polief JSC.
On 25 December 2009 he was included on the Presidential Council of the Republic of Bashkortostan
Goncharuk owns 2% of Sistema.
He is married and has got a son.
Source: Russian Wikipedia
Dossier
In 2003 Goncharuk chaired a concern called Nauchny Tsentr. Sistema controlled this company. Nauchny Tsentr absorbed a number of successful enterprises with long-term projects, having high market potential, such as Elion and Elaks plants, as well as Kvant plant, which Nauchny Tsentr acquired in the previous year. The absorbing company sacked all professional managers, the rest were involved in giving the semblence of activity under guise of false promises. Leasing premises became the only source of revenue of the companies. The profit from the rent went mainly to Nauchny Tsentr.
All major undertakings, which Nauchny Tsentr had been so proud about, fell apart, including umbrella brand for Russian household appliances. It all went up in smoke. The company debt rose, few clients turned away from the company. A first deputy director general had to make a statement, explaining the reasons why the company lost "a few major clients."
Source: Kompromat.Ru, 1 March 2004
Aleksandr Goncharuk's brother Aleksei was appointed the deputy head of MGTS, Sistema's daughter company that operated the landline telephones of Moscow, in 2005. Goncharuk was at that time a head of Nauchny Tsentr.
Source: Vedomosti, 8 July 2005
In 2006 the board of directors of Sistema made changes to their management structure. Aleksandr Goncharuk was appointed the president of the company. "The goals which the board set are ambitious. I realize that. But I am 100 per cent sure my colleagues and I will manage our job well," Goncharuk said. He said he liked ambitious goals and wanted an adrenaline rush.
Source: Vedomosti, 24 January 2006
Sistema got its own member of the board of directors of North-West Telecom for the first time in 2007. Earlier reports said that president of Sistema Aleksandr Goncharuk had reached a mutual support agreement with Association for Defence of the Investors' Rights, also known as API. It turned out, however, that API had not planned to vote for the candidate of Sistema. In the end, Gensor Enterprises Limited, which controlled 4% of North-West Telecom, nominated Sistema's candidate to the board of North-West Telecom.
Source: ComNews, 25 June 2007
Menatep Group, that had a controlling stake in oil company Yukos, was obliged to sell its last asset in the field of telecommunications - GTS Central Europe carrier. Menatep planned to develop its telecommunications sector, but the situation surrounding the company destroyed the plans. Being told about the sale of GTS Central Europe, Aleksandr Goncharuk said, "This asset is similar to practically any other assets, but we consider a potential acquisition of this company."
Source: Kommersant, 13 January 2008
In May 2008 Goncharuk resigned as the president of Sistema. Leonid Melamed took over from him. Goncharuk was said to have had plans to step down for a long time. The sources say he was very tired of the job.
Source: Lenta.Ru, 28 May 2008
On 2 September 2011 the employees of Bashneft, present and past, gathered at the Neftyanik concert hall in Ufa, Bashkortostan, to celebrate the Day of Oil and Gas Industry Worker. Chairman of the board of Basheft JSC Aleksandr Goncharuk was seen at the event.
Source: INFOLine, 6 September 2011