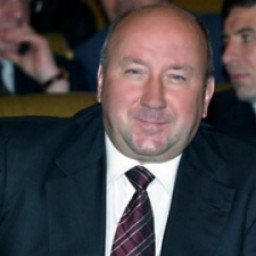 Bio:
Korzhakov was born on 31 January, 1950 in Moscow. He comes from the family of workers.
In 1967-1968 he worked as a second-class assembly mechanic at Moscow Electromechanical Plant.
In 1969-1970 served in the Kremlin regiment.
In 1970-1989 he worked for the Ninth Chief Directorate of the KGB. He was engaged in protection of superior government officials. In 1971 Korzhakov joined the Communist Party and became a member of the party bureau and a member of the Komsomol committee of the Ninth Directorate.
In 1981-1982 he served in Afghanistan.
In 1985 - 1987 he was a bodyguard of Boris Yeltsin, the first secretary of Moscow city party committee.
In 1989 he was dismissed from the KGB "on age and health grounds", but the actual reason was his support to Yeltsin who had quarrelled with the government by that time. Korzhakov remained Yeltsin's bodyguard and worked under his direction at the reception of chairman of the Supreme Soviet construction and architecture committee.
In 1990 - 1991 he was the head of security department under chairman of the RSFSR Supreme Soviet Boris Yeltsin.
In 1991 - 1996 he was the chief of the Presidential Security Service
In 1991 - 1995 he was the first deputy chief of the Protective Service of Russia.
In 1996 he was a member of Yeltsin's election staff. In June 1996 was removed from all the positions he had taken. A few months later he allied with general Alexander Lebed.
In 1997 Korzhakov was elected State Duma deputy from the Tula region. At that time he also published a book titled Boris Yeltsin: From Dawn to Dusk.
Since January 2000 he has been deputy chairman of the State Duma Defense Committee.
Awards:
Order For Personal Courage
Korzhakov has two daughters, Galina and Natalia, by his first wife Irina Semyonovna Korzhakova. In 2008 he married to his assistant Galina.
In 2010 Korzhakov earned 2.4 million rubles. He had an apartment provided for free use that had an area of 68 square meters. Korzhakov owned a land plot measuring 3,400 square meters and a house. He owned Chrysler 300 car, Chevrolet Avalanche truck, Chevrolet-Express j3500 bus and ATV.
Source: Wikipedia

Dossier:
While being the chief of the Presidential Security Service, Korzhakov had profound influence on Yeltsin. The service was established by special Yeltsin's decree and was not regulated by law. To control it Yeltsin issued Presidential Security Service Regulations that became classified information. Security Service was engaged in operational-search activity and surveillance of potentially dangerous citizens. The service used hidden camera techniques, phone tapping and so on, although the Presidential Security Service was not mentioned in the law On operative-search activity that granted a licence for that kind of activity. Security Service call-forward was included in confidential part of the budget message avaliable only for specially authorized officials, including members of the Duma Security Committee. No one, but the Kremlin officials, was supposed to know about fund amounts and expenditure pattern of Korzhakov's departments.
Source: Dossier on Korzhakov by Most group.
The Communists reported that on 3-4 October 1993, during the armed conflict in Moscow, Korzhakov had been involved in shooting defenders of the government quarters. He was said to demand their execution after they had been captured and brought to the stairs of the quarters: "I am ordered to liquidate all the uniformed people!"
But in fact, Korzhakov's role was insignificant. He confined himself to arresting security officers Rutskoi , Khasbulatov and Makashov. Rumours about "bloody butcher Korzhakov" are still not confirmed. There is no evidence of the very fact that militants who had surrendered were shot.
Source: old.flb.ru, 21 November 2007

The first overt conflict between Korzhakov and Gusinsky-Chubais alliance was provoked by Korzhakov's attack on Gusinsky's Most holding corporation. On 2 December1994 officers of the Presidential Guard were ordered by Korzhakov to raid Moscow office of Most-bank, located at the City Hall quarters in Novy Arbat street. Officers blocked the office for several hours. A criminal case on the raid was dismissed "for lack of corpus delicti''. Moreover, chief of Moscow FSB office Evgeni Savostyanov, who then had come to the aid of Gusinsky along with his officers, was immediately discharged. Soon after that Gusinsky left for London and spent there five months
Source: Vremya novostey, 16 June 2000

On 19 June 1996, in the evening, Arkadi Yevstafyev and Sergey Lisovsky, members of Yeltsin's campaign staff, headed by Chubais, were detained while carrying a photocopier box out of the Government House. Cash amount totalling 538 thousand U.S. dollars was found in the box. After questioning Yevstafyev and Lisovsky were released. Chief of the Presidential Security Service Korzhakov, the FSB director Mikhail Barsukov and first deputy Prime Minister Oleg Soskovets, who had initiated their detention, were forced to resign because of vigorous campaign launched by certain media.
In fact, half a million dollars turned to be costs of eliminating the group undesirable for Chubais. Korzhakov, Soskovets and Barsukov were no longer close to Yeltsin. As Korzhakov claimed in his memoirs, Security Service received reports on "plundering" of the campaign funds. On 19 June1996 Security Service secretly broke open a safe of Deputy Finance Minister German Kuznetsov and allegedly found 1.5 million U.S. dollars there. Korzhakov stated that the amount had been kept there without any documents indicating its source, while payment warrants of the foreign banks were found.
According to Korzhakov, after his resignation Chubais asked Korzhakov's deputy to "return his 500 thousand". In 1999 prosecutors dismissed the case.
Source: Riw.ru, 2001

In February 2004, while being a State Duma deputy, Alexander Korzhakov filed a request with the President, the Prime Minister, the Prosecutor General's Office, the FSB, the Chamber of Accounts and Gazprom company. He reported on the activities of Gazprominvestholding director-general Alisher Usmanov and former department head of Gazprom public company Alexander Krasnenkov.
As Korzhakov stated, he was informed about their arbitrary and lawless usurpation of Gazprom by retired FSB officer and shareholder of Zapsibgazprom Tyumen company Alexey Rudakov. In September 2002 Rudakov sent him a letter.
As Rudakov learned, Usmanov and Krasenkov employed any means to ''prevent Zapsibgazprom from getting improved under external control. To avoid external interference, while having 8 billion rubles payables they reached out-of-court settlement, according to which the company property was to be distrained and sold by auction" .
Krasnenkov Usmanov rejected all the accusations and filed a counter-claim on protection of honor and dignity. Korzhakov was forced to drop the investigation.
Source: Gazeta, 2 February 2004

On 11 January 2010 Yeltsin's daughter Tatyana Yumasheva posted to Live Journal her own version of the incident "with photocopier boxes ". According Yumasheva, the money found on Lisovski and Yevstafyev was intended for payments to actors who had taken part in the show held in Yeltsin's support. Businessmen were to convey the money to the recipients.
As Yumasheva claimed, Korzhakov, who controlled Yeltsin's campaign funds, knew about it and grabbed the opportunity to regain its former influence on the president, having fabricated an embezzlement case. Yumasheva called Korzhakov's actions "stupidity, baseness and betrayal."
Alexander Korzhakov replied that he had not controlled the Yeltsin's campaign funds. "Chernomyrdin, Chubais and deputy Finance Minister Kuznetsov were responsible for that," he said. Korzhakov added that the operation on the arrest of Lisovski and Yevstafyev had been conducted at Yeltsin's request, as Yeltsin had suspected stealing money from his funds.
Source: Utro.ru, 19 January 2010

In November 2010 Andrey Bagdasarov, an assistant to State Duma deputy Alexander Korzhakov, was found shot dead at his Moscow apartment. Bagdasarov formerly served as a senior officer in the Federal Protective Service of Russia.
Investigators considered various motives for his murder, including his business activity. However, the most intriguing thing was the fact that Bagdasarov had been a witness of a search of the apartment , where Alexander Tikhonov, the father of lawyer Stanislav Markelov's and journalist Anastasia Baburova's murderer Nikita Tikhonov, lived.
Source: Versiya, 11 November 2010