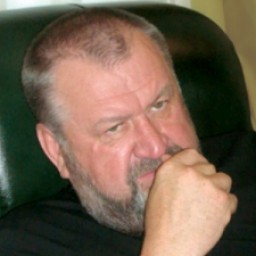 Biography:
Aleksander Shchukin was born on November 26, 1950 in Kemerovo region. In 1985 he graduated from Moscow Mining Institute. He worked as a shaft man at Capitalnaya-2 mine in Kemerovo region. Later he worked in mines Yubileynaya and Yesaulskaya.
In 1999 he became a shareholder in Sibuglemet holding, receiving a share for Polosukhinskaya mine.
In 2003 he became Vice-president of Sibuglemet holding.
In March 2009 he personally guided a tour of Vladimir Putin around mine Polosukhinskaya.
In August 2010 he acquired a 100% stake in Kuznetsk dairy company.
He was on Forbes list in 2005 and 2010 ranked 67th with $ 450 million (2005) and 87th with $ 800 million (2010).
He is married and has one daughter. He is president of sports club Siberian Ring.
Source: Lobbying.ru
Dossier:
Unlike other co-owners of Sibuglemet, Aleksander Shchukin earned his first money not on sale, but on transportation of coal. In the early 1990s, he organized the transportation company, which dealt in transportation of raw materials from the mines of Kemerovo region.
Source: Forbes.com, 2011
Arbitration Court of Kemerovo region rejected the claim of Moscow Company Transmetkoks, controlled by Anatoly Skurov, the president of Sibuglemet holding, against Novokuznetsk Mine Polosukhinskaya JSC. The plaintiff asked the court to declare illegal the decision of the board of directors concerning additional issue of shares, leading to a decrease in the stake of Transmetkoks. But the deal of the Moscow company to acquire the stake was challenged by Aleksander Shchukin, the owner of Polosukhinskaya and another co-owner of Sibuglemet.
Aleksander Shchukin pledged to give Transmetkoks 5100 of shares, which was at that time 37% of the share capital in Polosukhinskaya. It is known that Transmetkoks made a payment in April 2010, but the shares were not received. Moreover, the board of directors of Polosukhinskaya decided to issue additional shares at the expense of additional capital of the mine. According to the reports of the company, the volume of emissions should reach 394.4 thousand ordinary shares and 72.5 thousand of preferred registered shares with par value of 10 rubles each. As a result, the mentioned package would decrease from 37% to 1.2%.
Source: Kommersant (Novosibirsk), 09 December 2010
In autumn 2010 Aleksander Shchukin parted with the shares of the coal company Siberian. Until September a total of 51.7% of the company was owned by the Cyprus Geoline Energy Ltd, 25% was owned by Valentine Bukhtoyaro, another co-owner of Sibuglemet, and 23.3% were owned by Shchukin.
It was not the first change of ownership at Sibuglemet. In summer 2010 Polosukhinskaya mine witnessed a change in shareholders. In the beginning of the year 35.5% of its shares were owned by Shchukin, and then the package was sold to several natural persons. Almost immediately after it became known that the partners in Sibuglemet had a conflict.
Source: Vedomosti, № 200, 22 October 2010
Investigation unit of the main investigation department of Kemerovo region police initiated a criminal investigation against Aleksander Shchukin over property damage by fraud or breach of trust in large-scale (Article 165,Part 3, point B of the Criminal Code).
Law enforcers checked the version that he refrained from transferring shares under previous agreements, thus causing several hundred million rubles damage to his partner.
KuzPress, 27 July 2010
Aleksander Shchukin, co-owner of Sibuglemet, in the arbitration defended his right to control Polosukhinskaya mine, which was challenged by his partner in the holding, Anatoly Skurov (Transmetkoks). Skurov's company failed to submit the original agreement under which he was to receive shares of Polosukhinskaya and the claim of Transmetkoks was not satisfied. On the contrary, the court satisfied requirements of Shchukin. In December 2010 the court also dismissed the claims of Transmetkoks Lts concerning invalidation of the decision by the board of directors of Polosukhinskaya to issue additional shares of the mine.
According to the materials of the arbitration court, the conflict disputes between co-owners of Sibuglemet are not exhausted.
Source: Kommersant (Krasnoyarsk), 23 March 2011