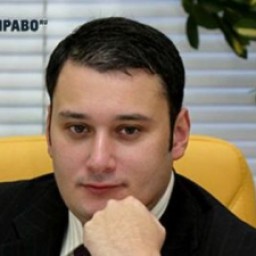 Bio:
Khinshtein was born on 26 October 1974 in Moscow into a family of engineers.
In1991 - 2003 he worked as a journalist for Moskovsky Komsomolets tabloid.
In 2001 he graduated from distance training department of journalism at Moscow State
University.
In 2003 he was elected State Duma deputy from the Nizhny Novgorod region.
In summer 2004 he joined United Russia party.
In 2007 he graduated from Moscow University of the Interior Ministry.
In 2008 Khinshtein published his sensational book, KGB Secrets.
Awards:
Order of Honour
Order of Merit for the Fatherland 2nd Grade
Medal of St. Daniel of Moscow
Zhukov Medal
Medal for the Defender of Free Russia
Medal for 300th Anniversary of Russian Navy
Medal the 850th Anniversary of Moscow
Medal for the 300th Anniversary of Saint Petersburg
In 2010 Khinshtein earned 4,060,550 rubles. In his income declaration he registered an apartment provided by the state for the period of his service as his own property. The apartment has an area of 122 square metres.
Source: Wikipedia
Dossier:
In summer 1996, during presidential campaign, Moskovsky Komsomolets published sensational materials. Khinshtein transcripted a tape recording of a conversation between Anatoliy Chubais, Viktor Ilyushin and Sergei Zverev, members of Boris Yeltsin's election stuff. They talked about recent ''photocopier box incident '', when Eltsin's assistants were detained while carrying photocopier box full of money out of the government quarters. After this publication the journalist became widely known. In April 1997 the case on "serious illegal operations on foreign currency " was closed as investigators never discovered the identity of the person who put 500 000 dollars into the box.
Source: Kto est kto 30 September1997

In 1999 Khinshtein published several articles directed against businessman Boris Berezovsky and his security service, Atoll private security firm. As Khinshtein stated, Atoll initially protected Berezovsky and his business, but later the company got engaged in surveillance and gathering compromising materialsagainst politicians, including members of so-called ''family", people close to president Yeltsin.
Besides, Khinshtein wrote about the relationship between Berezovsky and governing body of the RF Interior Ministry. In particular, he adduced evidence of close friendship between Vladimir Rushailo, who at that time was Deputy Interior Minister, and Boris Berezovsky. In January 1999, after Khinshtein's article had been published, Prosecutor General's Office launched a criminal investigation against Atoll and searched offices of the company, but did not find anything illicit.
Source: Moskovsky Komsomolets, 2 February 1999

On 14 May 1999 on Volokolamskoye highway Khinshtein was stopped by traffic police for traffic violation. Khinshtein produced a document giving its owner a right to avoid being checked by the police, and then produced a service certificate of intelligence service captain in the name of Alexander Matveyev. When Khinshtein's car was inspected another high rank certificates were also found. Reports say that Khinshtein himself said that all those certificates were his ''undercover documents''. Khinshtein was detained, but in a day he was released after he had signed a letter undertaking not to leave town.
Source: Kommersant, 18 May 1999

A case against Khinshtein caused rumours about his relation to the secret service. In February 2000 it was reported that Khinshtein's fellow officers of the Federal Security Service were seriously concerned about Khinshtein's probable conviction and regarded removal of the Interior Minister as the only way to save the journalist. That media report made Moscow Mayor Yuri Luzhkov petition for Khinshtein in front of Vladimir Putin.
Source: Kommersant, 02 February 2000

In 1999 Khinshtein published a number of articles about Rushailo and his assistant, Major General Alexander Orlov, police officer. Khinshtein claimed that Orlov was related to St. Petersburg mafia. An article directed against Orlov was published right at the time when Orlov was checking in at Sheremetyevo airport as he was leaving Moscow for good. Orlov had time to move to Israel before the article was published, despite the fact that Khinshtein, as he stated in the article, had been gathering compromising materials for two years, that is, he had enough time to publish the article before Orlov's departure.
In response to the publication Rushailo called Khinshtein a "sick man". "We've got his medical card. He needs treatment. He has serious brain disorder..."
Source: Literaturnaya Gazeta, 1 December 1999
In February 2000 Khinshtein voluntarily had a medical examination at a mental health clinic under the RF Health Ministry. Health authorities found no signs of mental abnormality. Soon a criminal case on forged documents against Khinshtein was closed. However, it became known that as far back as 1986 Khinshtein was diagnosed with schizophrenia. In 1991 his diagnosis was confirmed.
Source: Vokrug novostey, 23 December 2007

When in 2003 Khinshtein ran for the State Duma as a candidate from the Nizhny Novgorod region, he used all the techniques he could think of. The Interior Ministry worked for Khinshtein as well. The Ministry forced Novgorod businessmen to contribute to Khinshtein's election fund. Bribery of voters and ballot manipulations were also used. Each voter was given money or alcoholic drinks.
While being a member of the Russian State Duma Khinshtein did not protect his voters' interests, he visited Nizhny Novgorod very rarely and mostly was drinking hard during his visits.
Source: Nizhegorodsky rabochy, 11 April 2003

On 31 October 2005 Khinshtein's apartment was robbed. A golden watch and jewelry were stolen. However, Khinshtein stated that burglars had intended to steal documents on the case opened against former premier Mikhail Kasyanov for illegal privatization of Sosnovka state dacha.
Source: Gazeta.Ru, 1 November 2005
On 29 September 2006 it became known that an action group of Nizhny Novgorod citizens would seek Khinshtein's recall as a member of the State Duma. Initiators considered that "deputy Khinshtein had not justified people's confidence. Instead of carrying out his duties, namely law-making, Khinshtein was busy with his own shady dealings". Valery Sergeichev, who was Khinshtein's assistant until July 2005, was reported to mastermind the campaign against Khinshtein.
Source: Gazeta.ru, 29 September 2006

In September 2011 Khinshtein made a denunciation against General Vladimir Markin, official of the RF Investigation Committee. Khinshtein claimed that Markin's certificate of law degree, giving him a right to hold the rank of general, was not valid. Prosecutor General's Office and State Education Department made an inspection and found out that diplomas of Moscow School of Economics and Culture were issued improperly. This fact made Markov's future career impossible.
Source: Moskovsky Komsomolets, 28 September 2011