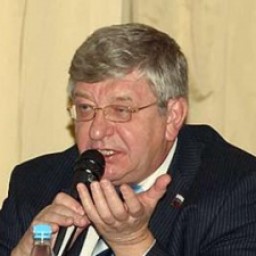 Biography:
Alex Bespalikov was born in 1948. In 1967 he graduated from Novosibirsk college of radio engineering as radar installation specialist. In 1973 he graduated from a faculty of automation and remote control of the Novosibirsk Institute of Electrical Engineering.
He began his career as a senior technician at experimental design office of Electrosignal plant. He worked as a teacher at trade school No.53, then he was a headmaster of trade school No 34 and trade school No 67.
In 1981-1984 and 1986-1991 years Bespalikov was sent on a mission to Cambodia (People's Republic of Kampuchea), where he worked as a senior lecturer and consultant, group leader of the Soviet specialists and training center adviser.
In 1991-1996 Bespalikov worked for Novosibirsk Regional Executive Committee and was responsible for regional vocational training of metalworkers. In 1992 he started his career at Novosibirsk City Hall as a deputy department director, then the head of the analytical control and management department.
In 1996-1999 he was a deputy mayor of Novosibirsk on arrangement activity.
In 2000 he became deputy governor of the Novosibirsk region, in 2003 he was first deputy governor of the Novosibirsk region.
On11 December, 2005 Bespalikov was elected deputy of the Novosibirsk Regional Council, and on 23 December he was elected chairman of the Council.
Awards:
Order For Merit For The Fatherland 2nd Class
Medal of three times Hero of the Soviet Union Alexander Pokryshkin
Order of Friendship (Cambodia)
Order of St. Sergius of Radonezh III degree (Russian Orthodox Church)
The Order of St. Prince Alexander Nevsky, I degree
Public Recognition Golden Badge of Honor (2001)
Silver Order of the European Academy of Natural Sciences (2007)
Bespalikov is a member of the Academy of Security, Defense and Law-and-order. Chairman of the Coordination Council of Siberian Agreement on Local Government interregional association. Regional secretary of the Political Council of the Novosibirsk regional office of Edinaya Rossiya All-Russian political party.
Bespalikov is a member of the Russian Union of Journalists.
Member of the Federation Council from the Novosibirsk region Alexey Bespalikov declared 2, 47 million rubles as his annual income. Bespalikov's wife earned 929,000 rubles. Bespalikov owned Outlander Max XT 800X all-terrain vehicle , MZSA-817 711 trailer and parking place at a cooperative garage. His wife owned two land plots, residential house measuring 696 square meters and 79 square meters apartment, a dacha and ZIL-131 cargo tank lorry.
Bespalikov is married. He has two daughters, a granddaughter and a grandson.
Source: FederalPress

Dossier:
In 2003, during Novosibirsk gubernatorial elections, head of governor Viktor Tolokonsky's election staff Alexey Bespalikov stated that the election campaign was extremely dirty one. Bespalikov gave a vivid example of incitement to racial and ethnic hatred : " They reported even about me I was a Jew. Well, that may be, although my father is Belarusian, and my mother is Ukrainian. And in general, the word Russky (Russian) ends with sky - hence, all the Russians are Jews. "
Source: IA REGNUM, 25 November, 2003
In 2008, a scandal broke out in the Russian Union of Journalists. It was caused by the fact that board members of Chechen department admitted Chechen President Ramzan Kadyrov as a member of RUJ. Secretariate of the Union refused to admit Kadyrov and overturned the decision of the board of the Chechen Republic office. Many Chechen journalists set up a boycott on the Union administration and stopped their membership in the Union. Chechen department of RUJ explained its boycott: "it is not the first time when RUJ admitted a head of the region as a member. But we are somehow not allowed to do it". Governor of the Novosibirsk region Viktor Tolokonsky and speaker of Novosibirsk regional council Alexey Bespalikov were current members of RUJ. Bespalikov perceived the position of Chechen journalists as outrageous disrespect for his merits as well as for merits of the governor.
Source: FORUM.msk, 6 March, 2008

On 7 July, 2010 governor of the Novosibirsk region Tolokonsky and chairman of the Regional Council Alexey Bespalikov testified upon the trial of their former colleague Sergey Aksenenko. In 2000-2006 Aksenenko was head of finance and tax policy department under the regional administration, and in 2004-2006 Aksenenko was vice-governor. He was accused of exceeding his authority with serious consequences (part "in" Part 3 st.286 Criminal Code). As investigators claimed, he illegally issued from the treasury non-repayable subsidy to Vinap company and Krasny Yar petroleum storage depot.
Source: Gorno-Altaysk.ru, 06 December, 2010

On 9 September, 2010 Dmitry Medvedev signed a decree on the resignation of governor of the Novosibirsk region Viktor Tolokonsky and his appointment as plenipotentiary of Russian President in the Siberian Federal District. Experts stated it to be a demotion associated with the fact that Tolokonsky's childhood friend, former head of physical culture and sports agency of the Novosibirsk region Alexander Solodkin Sr. and his eldest son, vice-mayor of Novosibirsk Alexander Solodkin Jr., were accused of being members of a criminal group and were taken into custody.
It was noticed that the decree on resignation of Tolokonsky had been issued quite hastily. It was enacted when Vasily Yurchenko appointed acting governor, was out of the region. Chairman of the regional council Alexey Bespalikov was absent from his workplace as well. He made an official statement only in the afternoon and promised to comment on the appointment of a new governor later, although it was he who headed the Novosibirsk regional office of Edinaya Rossiya, the party that was supposed to provide the president of Russia with a list of candidates for the governor position.
Source: FederalPress, 10 September, 2010

In the State Duma a criminal case of Solodkins provoked a scandal involving eccentric politician and celebrity Vladimir Zhirinovsky. Vice-speaker Zhirinovsky twice demanded dismissal of governor Tolokonsky and chairman of the regional council Alexey Bespalikov. Zhirinovsky claimed that they covered "the largest bandit clan " of the Novosibirsk region.
Source: Kuryer-Sreda, 18 April, 2010
On 14 October, 2010 secretary of the Political Council of Novosibirsk office of Edinaya Rossiya Alexey Bespalikov, a close ally of former governor of the Novosibirsk region Victor Tolokonsky, deserted his post.
Bespalikov had the reputation of regional "grey eminence ". He was believed to be a conductor of all political campaigns, that were held in region during past decade. For the last five years he was head of the Regional Deputy Council and the regional political council of Edinaya Rossiya political party. However, as he frankly admitted, he failed to provide the party with majority vote during the Legislative Assembly elections. Therefore he let Ivan Moroz, former head of the Russian Pension Fund regional department, take both his chairman positions.
Source: Expert, 8 November, 2010

Novosibirsk branch of Preschool education avaliable for Russian children social movement is protesting against the fact that children group in kindergartens are now bigger then they are supposed to be. The latest protest action was held on Wednesday, June 1st.
Action coordinator Semyon Gunkin, when interviewed, said that their movement demanded the state to obey laws, nothing more, and it was not a part of any political game. So it was strange for him to hear Alexey Bespalikov called hunger strike of the movement participants a political act.
Source: NGS.NOVOSTI, 4 June, 2011