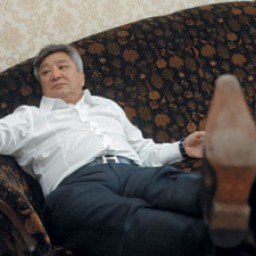 Biography:
Alimzhan Tokhtakhounov was born on January 1, 1949, in Tashkent, Uzbekistan. He spent his childhood in Tashkent, where during his school years he met Michail Cherny, disgraced aluminum magnate, and Shamil Tarpishchev, captain of Russian national tennis team.
In the 1980s he became a professional card player and was one of the legendary card-sharps of the late Soviet period.
In 1989 he went to Germany and stayed there. Soon he received Israeli citizenship. He took up business (supplying food products to Russia) and earned quite a bit of money.
In 1993 he moved to Paris.
In 1995 he was expelled from Monte Carlo.
In 1999 he was awarded title of a Knight of the Order of Saint Constantine for "heroic, chivalrous spirit and philanthropy."
In 2001 he moved to Italy.
In 2002 hу was accused of rigging the competition in figure skating at the Olympic Games in Salt Lake City, but he was acquitted by the Court of Cassation.
In 2003 he returned to Moscow.
In his youth, he loved football and played for the Pakhtakor.
He was a co-owner of the now closed Moscow's major casinos such as the Metropol, Europe, and Asia.
Also known as Taivanchik and Alik.
In Russian and Western media he is referred to as one of the biggest crime bosses in Russia. He is among the top ten individuals wanted the FBI.
Tokhtakhounov has been associated with many of Russia's business elite. He is credited with scandalous ties with Sergey Mikhailov, Otari Kvantrishvili, Anatoly Bykov, and Mikhail Cherny. The media claimed that Tokhtakhunov was involved with deceased Anton Malevsky, arrested in France Mikhail Zhivilo and Vyacheslav Ivankov (Yaponchik). According to rumours, Yaponchik named Tokhtakhunov his eyes in Europe.
Tokhtakhounov sponsored Alla Pugacheva, Sofia Rotaru, and Joseph Kobzon.
He was involved in the establishment of the political movement The Bear (Medved).
He is in his third marriage. His wife, Svetlana is Russian by origins and is an Italian citizen. He has four children.
Source: Wikipedia
Dossier:
According to media reports, in the 1970s, Tokhtakhounov was allegedly involved in drugs dealing and stealing cars. He was convicted twice, for violating the passport regime and parasitism. But the hour of Taivanchik struck in the late 1980s - early 1990s.
His rise was caused by happy coincidence, namely the fact that future oligarch Mikhail Cherny studied at the same school as Tokhtakhounov, and that Shamil Tarpishchev, future Kremlin adviser on sport, was also Alik's pal. The first, as they say, introduced the former classmate to the world of big business. The second literally brought him to the then small circle of political elites and Taivanchik suddenly appeared close to Boris Yeltsin.
Source: Argumenty and Facty, 07 August 2002
In 1998 French foreign intelligence service reported that Taivanchik was "ringleader of a criminal organization," "mediator for high-profile projects." Tokhtakhunov was mentioned in the Interpol report in April 2001. He was suspected of trafficking drug, weapons and stolen cars.
Source: Komok, 30 September 2002
On August 1, 2002 Tokhtakhounov was arrested in Italy on charges of rigging the competition in figure skating at the Olympic Games in Salt Lake City.
American intelligence agencies asserted that he organized a mutually beneficial exchange so that the French judge Marie-Reine Le Gun voted for the Russian skaters in the pairs figure skating (Elena Berezhnaya and Anton Sikharulidze), and Russia voted for the French (Marina Anissina and Gwendal Peizerat) in ice dancing.
Immediately after the events Le Gun said that she was under pressure from members of the French figure skating association who made her give high marks to the Russian athletes. A few days later she retracted her words, saying that they did in the fit of passion and because of pressure by members of the International Federation of Skating.
The International Olympic Committee held an investigation into grading of skaters at the Olympics. Representatives of the Committee concluded that Tokhtakhounov had no impact on the results of the tournament; however, for the first time in Olympic history a scandalous decision was made to hand the second set of gold medals to Canadian skaters.
On January 7, 2003 an Italian court ordered the extradition of Tokhtakhunov in the U.S., but the Court of Cassation of Italy ruled differently, cancelling the previous decision.
Source: Novaya Gazeta, 24 February 2003
According to Forbes, in 2011 Tokhtakhounov was among the ten most dangerous criminals in the world, based on data from U.S. law enforcement agencies. Taivanchik commented this fact saying that he had long been engaged in "business and charity", but due to the crisis and both had become less active. He admitted that he is currently looking for some new area where he can use his talent of entrepreneur, and that he has co-starred in a film called MUR, to be released soon, and wrote two books. He also admitted that he gladly would have taken up politics and recalled seeing Vladimir Putin, who at that time was deputy mayor of St. Petersburg, in Monte Carlo.
Source: NEWSru, 17 June 2011