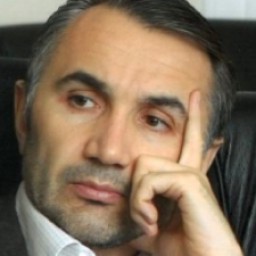 Bio:
Amir Gallyamov was born on 9 May 1970 in Chelyabinsk. In 1992 he graduated from a
car engineering military school in Chelyabinsk, having acquired a profession of mechanical engineer.
In 1994 he started his career, as deputy commercial director of Transneftebunker closed corporation, Moscow.
In 1996 - 1998 he worked as deputy head of the Moscow office of Novosibirsk End Oil Gas Inc.
In 1998 he was appointed commercial director of Lubrikom closed corporation.
In 2002 - 2003 he worked as deputy director-general for long-term projects of LUKOIL-Tsentrnefteprodukt. In 2003 he became deputy director-general for development of guidelines for action.
In 2003 he became president of Renrol closed corporation.
Since 2007 he has represented the Amur region in the Federation Council
Awards:
Commemorative medal 1000th anniversary of Kazan (2005)
Gallyamov received doctor's degree in economics.
He has more cars than any other member of the Federation Council. He owns 12 cars: a Maserati, a Bentley, a Ferrari, a Porsche convertible, 3 Land Cruiser cars and 3 Mercedes-Benz cars.
Source: website of the Federation Council



Dossier:
In 2007 Amir Gallyamov purchased a new armored Mersedes-Benz 600. He registered a third person as an owner of the car and arranged an agreement, according to which the owner gave the car to the authorities of the Amur region for free use.
But Gallyamov alone used the car in Moscow where he worked at the moment. Gallyamov invented this scheme to get so-called attributes of power: flashers, the right to bypass traffic jams and indulgences of the traffic police. However, the he insisted that he turned on flashers only when other officials of the Amur region came to Moscow and used the car. When the rental contract expired Gallyamov required to remove the car from the property list of the Amur legislature. In response, officials of the Amur region submitted documents, according to which Gallyamov donated to the Mercedes-Benz to local administration. Gallyamov hurried to apply to the court. Two handwriting experts found that his signature on the documents was false. The court held to return the car to Galliamov.
Source: Kommersant Khabarovsk, 25 September 2009

In 2010 it became known that Amir Galliamov owned a house in Razdory village in suburb of Moscow, near Rublevo-Uspenskoye highway also known as Rublyovka. The house had an area of 681 square metres, while the land plot measured 5500 square metres.
Source: Port Amur, 18 May 2010

In 2011 in the Tambov region a conflict arose in connection with jointly held primaries of United Russia and All-Russia People's Front. Co-founder of United Russia and State Duma deputy Alexander Gurov announced his intention not to participate in the election ''not fully reflecting back the views of the voters'' which implied unwillingness to compete with
''outsiders to the region'' Amir Galliamov.
Observers believed that Gallyamov ''tried to find a backwater district'' to get the parliamentary mandate easily, but he miscalculated. Gallyamov's chances for being elected depended on his relationship with the leaders of United Russia. He made no secret that he was seeking to be re-elected beyond the Amur region, as he had a conflict with governor Oleg Kozhemyako. Disagreements between them often resulted in big scandals.
Gallyamov said recently that he differed from Kozhemyako in the opinion about many strategy issues of the region and so he would have to choose another region of the Russian Federation to continue his political career.
Source: Kommersant Voronezh , 22 June 2011