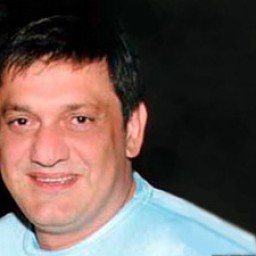 Biography
He was on January 3, 1965 in Georgia.
In the mid of1990s, he came in the RUBOP view as an active link crime of criminal boss Vladimir Kolesnikov (Koleso).
In 2001, St. Petersburg City Court sentenced him under P. 3. of Art.159 of the Criminal Code "Fraud" (a scam on of TTC CJSC and Peterburgstroy JSC property). Having found Shengeliya guilty, the court freed him from punishment for health reasons. His accomplices were sentenced to suspended imprisonment, and after re-examination of the case they were acquitted. After that Shengelia disappeared from St. Petersburg.
In 2001, in Vologda, he pulled off a fraud with assets of RAO UES – with the help a court of one of the cities of the Republic of Dagestan, he sold several buildings owned by RAO. For this transaction, he was brought to trial and was convicted by the Vologda court under Art. 159 "Fraud" and spent a year in prison.
In 2004, he again appeared in St. Petersburg and began buying up shares and "problem" real estate objects.
He has several apartments in St. Petersburg, one of which, on Nevsky Prospect 153, Shengelia purchased from the former head of GUVD (the Main Internal Affairs Directorate) Anatoly Ponidelko. In September 2006, he was arrested on charges of fraud. Currently he is under investigation.
Source: Ruspres


Dossier
Shengelia came into the view of the law enforcement agencies in the mid of 1990s as one of the assistants of the Siberian mafia boss Vladimir Kolesnikov (Koleso). In 1996, he moved to St. Petersburg, where he engaged in corporate raids. According to the Ministry of internal Affairs, from the end of the 1990s, his group was operating all over the North West.
Source: Kommersant, November 13, 2009


It is on the testimony of Shengelia, the accusation was built in most criminal episodes charged against Vladimir Barsukov.
Source: FLB.ru, October 8, 2009


It is not necessary to have a special insight to understand why Badri Shengelia so diligently exposeds Vladimir Barsukov, loading the court with new and new stories in the style of "Gangster Petersburg". The matter is that Shengelia himself recently was the main accused person in the case on capture of a number of large enterprises - Krupskaya Confectionery Factory JSC, Lada-Service LLC, Igristye vina CJSC, SCUM JSC. The investigators had enough evidence against the suspect. When a sentence in the form of long-term detention was inevitable, Shengelia made an agreement with the investigation team of Colonel Zakharov who was in charge of the cases on Barsukov.
In the status of a very important witness, Shengelia received a substantial bonus - the only episode remained in his own case – it was attempts to capture a small little factory in St. Petersburg on the Obukhovskoy Oborony Prospekt, the owners of which had received from Shengelia a very generous "compensation" even before the trial. As the result, the court sentenced him to just the "symbolic" 2 years 9 months in a standard regime penal colony.
Source: Vash Tayny Sovetnik, June 1, 2009


Before developing the case of the Tambov crime group, Badri Shengelia was known only in a very narrow circle. But testimonies, he gave in numerous lawsuits, made him a more than significant figure.
The imprisonment only added more weight to Shengelia. As follows from numerous testimonies, given recently by all kinds of people, not only didn't he quieten down, but even on the contrary - was developed as a clever "seizer" of property.
Source: Novaya Gazeta, March 22-24, 2010


In fact, there are 3 people who can tell the truth about the raider attacks in St. Petersburg, in which the name of Badri Shengelia appears (despite Vladimir Barsukov's, most of raider captures are like these): it is Shengelia himtself, Akaky Daraselia and Evgeny Panov.
Nobody counts on Shengeliya's frankness — he still is under the program of protection of witnesses. Akaky Daraselia is abroad and doesn't plan to come back to Russia. Evgeny Panov hiding from the investigation.
Source: Fontanka, January 16, 2012