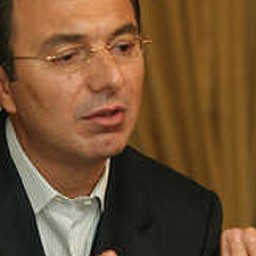 Biography:
Date of birth: 5/26/1963 of year
Birthplace: Tbilisi, Georgian Soviet Socialist Republic.
Education:
Moscow institute of mining industry, economy and management in mining manufacture, 1991.
The master's thesis on problems of regional coal markets formation, 1996
Academy of national economy at the government of the Russian Federation, the thesis for a doctor's degree "Coal market development in Russia", 1999
Career:
In 1991, he was the main commercial expert of Skochinsky Institute of mining. In 1992, he obtained a post of CEO in the International mining trading house. In 1993 was appointed to a post of Head of the Coal Market Organization Administration of the enterprise "Rosugol". In 1996 Galchev created, own company "Rosuglesbyt". After a while, in 2004 the company was renamed into OAO "Eurocement group". In 2000, he held a post of the chairman of board of directors of OAO "Krasnoyarsk coal company".
According to magazine "Finance" in the beginning of 2009, he has a fortune in amount 2.8 billion dollars, and also occupies 18th place in a rating of the Russian billionaires.
Marital status: married, has a daughter (Alina Galchev-Kalcidu) and son (Galchev Ilya Filaretovich).
Source: www.bfm.ru
Dossier:
Filaret Galchev became interesting for large mass media much later than the majority of his colleagues-oligarchs. It happened in the end of 2000 in connection with competition strengthening in Russian coal business. Journalists were interested by this process in connection with statements of representatives of "Gazprom" that deficiency of gas in domestic market in 2000 would make 11 billion cubic meters, and by 2020 would increase up to 85 billion cubic meters. They started talking about transfers of the large sums by the government of the Russian Federation and "Gazprom" for revival of the coal industry. The chairman of board of ZAO "Rosuglesbyt" of that time (the largest trader in the Russian coal market) Filaret Galchev also showed interest to this issue— as he said the company was ready to donate $500 million.
This statement of Galchev meant about certain arrangements according to which he expected to receive dividends from the outlined policy of the government on restoration of coal manufacture. Moreover, the issue of attraction of large extra means from the World Bank was discussed.
Source: newspaper «Kommersant» № 238 (2123) from 12/20/2000
A bit later Filaret Galchev was involved to the serious conflict to a management of ZAO "Krasnoyarskenergo" because of non-payments for coal, which was delivered to "Krasnoyarskenergo" by AO "Krasnoyarsk coal company" ("Krasugol"). Re-elected chairman of board of directors Filaret Galchev (he also was the chairman of board of ZAO "Rosuglesbyt") made sharp enough statement having promised that the company would pass to system of a 100 percent advance payment for delivered coal before winter came. In this connection journalists paid attention to relations of Galchev to a number of the first persons in Krasnoyarsk administration.
Source: newspaper «Kommersant» № 102 (2232) from 6/15/2001
In the beginning of 2002, the conflict rose up. The RAO "UES" declared that it managed to agree definitively with the companies of ZAO "Vostsibugol" and "Kuzbassrazrezugol" about coal deliveries in the 1st quarter of 2002. For the first time in history of relations of coal, miners and power engineers in contracts fines for a non-payment and failure of deliveries were stipulated. Meanwhile «Krasnoyarsk coal company» (KCC) disagreed the conditions offered by the RAO "UES". It was not possible to agree also with one more Galchev's structure - ZAO "Rosuglesbyt". "Rosuglesbyt" insisted on essential increase of the coal price — 25-50 %. In the absence of contracts, KCC already stopped fuel transfer to Krasnoyarsk state district power station-2 and Berezovsky state district power station, and to "Altayenergo" and "Hakasenergo". Actually, during this period there was a serious conflict between Galchev and RAO "UES" management.
Source: newspaper «Kommersant» № 6 (2375) from 1/17/2002
Probably, within this conflict Galchev sold the actives in «Krasnoyarsk coal company» (KCC) and the leading coal trader of Russia OAO "Rosuglesbyt" to MDM group approximately for $120 million; after that the conflict ended up.
In July 2002, the press-service of ZAO "Rosuglesbyt" belonging to Filaret Galchev declared acquisition of a controlling interest of the largest cement holding of Russia, company "Stern-cement". The press wrote that the decision on an investment of the obtained money in cement business in was mostly connected with old relations of the management of "Rosuglesbyt" with the head of Moscow department of investment building programs Leonid Krasnyansky whose son George headed board of directors in "Rosuglesbyt". The capital market was priority for "Stern-cement" (the company provided more than half of all cement deliveries to Moscow).
It was noticed that purchase of "Stern-cement" was made during the scandal regarding conclusion of cartel agreement by cement enterprises to rise up the prices for the production. At the initiative of capital mayoralty Office of Public Prosecutor started investigating cartel activity of cement manufactures. However after the transaction journalists predicted change of a position of Moscow mayoralty.
Source: newspaper «Kommersant» № 126/P (2495) from 7/22/2002
A bit later in Bryansk Filaret Galchev's meeting with the governor of the region Jury Lodkin took place. After negotiations mister Galchev made a startler: cement holding will change the name soon and will be registered in Bryansk. Besides, it was informed that probably new owner of the company would arrange simple re-structuring — would transfer the most attractive actives to the new structure as "Stern-cement" is almost bankrupt, its debts, under the informal information, reach $48 million.
And in connection with a possible registration of the company in Bryansk journalists came out with assumptions that it was simple advances with regional administration and that thus Filaret Galchev let know to Jury Luzhkov about inexpediency of pressure upon holding for the purpose of price reduction for cement delivered to Moscow. At a registration, Moscow would lose up to $10 million tax revenues per year.
The matter is that until recently a link between the Moscow mayoralties and "Stern-cement" was the founder of the company Vladimir Shternfeld. But he sold the share in business approximately for $15 million. Right after announcements of the transaction in the market there were hearings that mister Shternfeld would be appointed as a deputy head capital construction complex of Vladimir Resin.
Source: newspaper «Kommersant» № 134 (2503) from 8/1/2002
Right after negotiations in Bryansk Galchev had a conflict to the president of investment company "Aton" Evgeny Juryev in connection with negotiations about acquisition by Galchev of 76 % of shares of OAO "Oskolcement" belonging to the company. Filaret Galchev offered the sum which seemed "ridiculous" to mister Juryev. Then Galchev promised "Aton" to launch price war which would decrease profitability of "Oskolcement". The capital mayoralty was interested in such price war also. "Stern" agreed with Jury Luzhkov to provide delivery of cement for municipal needs of a city actually under the dumping prices that closed the market for "Oskolcement".
Source: newspaper «Kommersant» № 141/P (2510) from 8/12/2002
Practically right after it, Filaret Galchev has to sphere of interests of mass media in connection with destruction at once two top-managers of his business empire. In Moscow suburbs, the assistant to the general director of OAO "Rosuglesbyt" Ivan Kartashev was killed. The inspectors of Odintsovsky Office of Public Prosecutor who initiated a criminal case connected murder with the struggle for Krasnoyarsk coal cuts. It was noticed that the coal business connected with a considerable quantity of offsets, barters and bills, traditionally is considered as one of the most criminal. Especially in Krasnoyarsk where thieves-in-law, "authorities" and simple gangsters show interest almost to each large transaction.
On strange coincidence of circumstances, this very day at approximately the same time one more businessman connected with "Rosuglesbyt" was lost. Victor Ostrovlyanchik, the adviser of the president of concern "Stern-cement" committed suicide at home. They wrote that Filaret Galchev until recently heading "Rosuglesbyt" was dissatisfied with old management and in particular with Ostrovlyanchik. The reason of dislike of Filaret Galchev to an old management team of "Stern-cement" is simple. He faced huge creditor debts of holding (nearby 1.5 billion rbl.). It is obvious that the question where money got to was asked to all his employees including Victor Ostrovlyanchik.
Filaret Galchev's representatives asserted that it is absurd to connect those two deaths as in February, 2002 businessman Ostrovlyanchik sold the coal business to MDM group, and for the obtained money a bit later "Stern-cement" was got. Ivan Kartashev came to work in "Rosuglesbyt" only in May. The mess ostensibly arose also because during that moment there were two "Rosuglesbyt": ZAO under control to Galchev, and OAO owned by MDM, which was a trader to "Krasugol".
Sources: newspaper «Kommersant» № 142 (2511) from 8/13/2002, Magazine "Money" № 32 (387) from 8/21/2002
At the shareholders meeting of "Stern-cement" which passed in January 2003 the decision on creation of new structure — operating company "Eurocement" was accepted. The made decisions were a plan part at the re-structuring of "Stern-cement" begun by mister Galchev after purchase of holding in July, 2002. Thus Filaret Galchev did not begin to register the company or to transfer its actives to the new structure (minority shareholders of "Stern-cement" — investment fund Russia Partners (41,2 % of shares) and Swiss holding Holcim — 6,8 % were afraid of that ).
Source: newspaper «Kommersant» № 13 (2616) from 1/28/2003
In the summer of 2005, right after rise in prices for cement tens companies — cement consumers, including RAO "UES" applied to FAS with complaints to shares of "Eurocement Group". FAS considered shares of "Eurocement" as infringement of the antimonopoly law and tried to collect from the company to the budget 1.9 billion rbl. of ostensibly illegally received income.
Source: newspaper «Kommersant» № 57 (3388) from 4/1/2006
New scandal with Filaret Galchev's participation happened in the spring of 2006. Fund Russia Partners and its partner, the investment company "A 1" (structure "Alfa-group"), informed about claim against "Eurocement of Group" given to the arbitration court of Moscow. The claim was submitted to arbitration court of the first instance on behalf of companies Kolden Holdings Ltd. and Serpell Holdings Ltd. under control of Russia Partners which possess 44 % of shares of OAO "Eurocement". The essence of claims was that in 2004 "Eurocement Group" deduced three cement plants from structure the share in which belonged to fund, open-cast mines on raw materials extraction. According to Russia Partners, the group began to sell raw materials to the factories at the overestimated cost, and to direct finished goods already for almost market prices to "Eurocement" for sale to end users. As a result OAO "Eurocement" profit in 2004 decreased for 68 % in comparison with 2003. The claim sum (nearby 3.35 billion rbl.) makes more than 75 % of all profit received by "Eurocement of Group" in 2004.
Source: newspaper «Kommersant» № 48 (3379) from 3/21/2006
At the same time 9th arbitration appeal court recognized the order of FAS regarding transfer of 1.9 billion rubles of ostensibly illegally received income by OAO "Eurocement Group" as illegal. Moreover, "Eurocement Group" supervising more than 50 % of the cement market of the country since then is not considered as a monopolist anymore.
Source: newspaper «Kommersant» № 57 (3388) from 4/1/2006
In August, 2006 New York fund of direct investments Russia Partners in addition to the previous claims declared the suit beginning against "Eurocement of Group" (ECG) in Great Britain and on Cyprus. Claims of the fund, demanding to collect with ECG $100 million, 38.7 % of shares of the largest enterprise of the group — "Maltsovsky portland cement" concern.
Dispute started because of 38.7 % of shares of factory "Maltsovsky portland cement", the largest active of ECG. An essence of the claim is that owner of ECG Filaret Galchev and the Cyprian companies Rodette and Taplow controlled by him illegally kept this share holding which Russia Partners sold them in 2004 within the multistage transaction on transfer of this package from Russia Partners to their joint company — OAO "Eurocement". Till now these shares and are not transferred to OAO "Eurocement". The sum of claims makes $100 million.
Source: newspaper «Kommersant» № 151 (3482) from 8/17/2006
Journalists wrote that war between Russia Partners and «Eurocement group» ended up with fund defeat. But the case did not come to the end: instead of Russia Partners the cement corporation received much more serious opponent — Roman Abramovich's company Millhouse Capital.
Abramovich's structures redeemed his package at fund Russia Partners and put two representatives to board of directors of "Eurocement". And Russia Partners has withdrew all claims from the Russian and foreign courts. So the victory of «Eurocement group» actually was Pyrrhic: experts did not doubt that Abramovich's group would not stop on it and would like to receive the control over the strongest player in the cement market.
Source: Magazine «Firm Secret» № 29 (212) from 7/30/2007
In 2008, Filaret Galchev appeared in the centre of new scandal. It happened because the factory "Pikalevsky cement" (part of Galchev's "Eurocement Group"), on two third providing requirements of builders of Petersburg and Leningrad region, decreased cement release three times — to 800 thousand tons per year. Decrease was ostensibly compelled: Pikalevsky aluminous factory (belongs to Oleg Deripaska's "Bazelcement") providing it with its raw materials was closed for modernization. In "Bazel" it was connected with a restructuring of the factory from raw materials manufacture to cement manufacture. In this case "Pikalevsky cement" appeared before prospect of full closing that in turn could lead to social explosion in Pikalevo where this enterprise was one of core companies. Besides, it is not necessary to forget that Deripaska and Galchev – competitors.
Source: newspaper «Kommersant» № 49 (3866) from 3/26/2008
"Eurocement group" tried to prevent "Bazelcement" to close Pikalevsky aluminous factory (PAF) for modernization, having initiated check of actions of the basic competitor by Federal antimonopoly service (FAS).
Source: newspaper «Kommersant» № 78 (3895) from 5/8/2008
Approximately, at the same time it was informed that for the first half of the year 2008 volumes of output at the company factories of "Eurocement of groups" (supervises almost 40 % of the market) fell to third in comparison with the similar period of last year. It occurred for the first time after the holding in 2005 became the leader of cement business in Russia. Reduction of volumes of output was a compulsory measure: cheaper import restricts "Eurocement" goods from the market that already led to 20 percent reduction of prices on cement.
Source: newspaper «Kommersant» № 131 (3948) from 7/29/2008
In September 2008 it was informed that "Eurocement group" through Eurocement Holding AG became the owner of 6.52 % of shares of one of world cement manufacturers — Swiss Holcim. It is the largest transaction for the Russian cement market: its sum is estimated in $1.39 billion. Operating manufactures today in Russia practically are not on sale; there is crisis in the market crisis; it is necessary to invest the means received from business (following the results of 2007 holding could earn a $930 million minimum); experts explain Filaret Galchev's interest to minority package of Holcim.
Source: newspaper «Kommersant» № 171 (3988) from 9/23/2008
Predicted social consequences in Pikalevo started soon. The company "Eurocement group" officially declared dismissal of 60 % of employees at the factory "Pikalevsky cement" in Boksitogorsk area of Leningrad region. It was supposed that till November, 2008 more than 700 persons would leave the enterprise. Eventually this conflict was settled with personal participation of the prime minister of the Russian Federation Vladimir Putin.
Source: Newspaper "Kommersant-SPb" № 172 (3989) from 9/24/2008
In the end of 2008 Belgorod regional Office of Public Prosecutor reacted to the complaint of workers of ZAO "Oskolcement" as a part of «Eurocement group», about their compulsion to dismissal at own will which was stated during dialogue of Russian prime minister Vladimir Putin with the country population. As it was informed in supervising department, at the enterprise the legal estimation of the situation would be given after check would come to the end. In «Eurocement group», the leader of the branch, it was asserted that workers were leaving by a mutual consent with the employer and received three wages. Further, this case was hushed up.
Source: Kommersant (Voronezh) № 223 (4040) from 12/6/2008
Later journalists wrote that holding "Eurocement group" managed to receive financing even before the state confirmed an order of credit granting within the limits of state support of manufacturers of cement. Sberbank opened for Filaret Galchev's companies the demand line of credit at a rate of 6 billion rbl. for a period of 18 months. The fact that the first large credit during crisis was received by holding "Eurocement group" did not surprise the players of the market: the basic owner of cement holding Filaret Galchev was not only the old partner, but also the shareholder of Sberbank (for January, 2008 he possessed 1,8 % of bank shares). Thus Galchev managed to find money for an exit from the difficult financial situation connected with non-payments during crisis.
Source: newspaper «Kommersant» № 26 (4081) from 2/13/2009
A bit later "Eurocement group" of Filaret Galchev declared reception of the second credit in Sberbank for the sum of 15 billion rbl. The company agreed with bank without any state support: its application for reception of state guarantees at the moment of credit reception was in Ministry of Regional Development. Money was assumed to spend for replenishment of circulating assets: buyers of cement did not pay delivery in time. In pledge under this credit there could be half of actives of "Eurocement", experts counted.
Source: newspaper «Kommersant» № 82 (4137) from 5/8/2009
In the beginning of summer of 2009 in a press there was information that the share holding of "Sberbank" belonging to Filaret Galchev decreased less than to 1 %. Details were not informed.
Source: Magazine "Money" № 25 (730) from 6/29/2009
In the end of summer of 2009 there were first messages on rupture between Galchev and its old business partner Georgy Krasnyansky. In particular, at first there were messages that one of two founders of "Eurocement group" Georgy Krasnyansky sold a 23.8 percent share in business to Filaret Galchev and left a holding control system. As George Krasnyansky told to newspaper «Kommersant», the transaction was made in May, 2007 and became a consequence of "divergences on strategy of company development". According to the source, close to partners, its sum made about $1 billion. According to press forecasts, it could be uneasy for Filaret Galchev to pay off for the shares sold on peak of the market. Demand and the prices for cement dropped since June, 2008, and as the result ZAO "Eurocement group" received a dead loss in 6, 1 billion rbl.
Source: Magazine "Money" № 33 (738) from 8/24/2009
A bit later it was informed that old corporate war of holding "Eurocement group" with minorities of affiliated company OAO "Eurocement" was finished. The owner of holding Filaret Galchev redeemed 44 % of shares of OAO at Millhouse. Roman Abramovich's company received this share from the fund Russian Partners which could not agree with mister Galchev even by means of "Alfa group". The sum of transaction could make $150 million: for this money Millhouse refuses claims to the owner of holding and withdraws the claims from High court of London.
Source: newspaper «Kommersant» № 158 (4213) from 8/28/2009
Journalists paid attention to communications of Galchev in government of Republic Tatarstan. In this connection they wrote how the government of republic and «Eurocement of groups» entered into the agreement on which the group can receive all large orders for construction of Universiade objects, social mortgage and petrocomplex "Taneko" and to increase volumes of deliveries in republic by 20–25 %. Players of the market consider that the republic does not need «to establish monopoly for delivery of strategically important raw materials», and experts do not exclude that competitors of "Eurocement" can apply to FAS.
Source: Kommersant (Kazan) № 158 (4213) from 8/28/2009
In the meantime the conflict between Galchev and his former partner Krasnyansky for money, which Galchev owed to him, developed. In this connection in November, 2009 it was written that Georgy Krasnyansky's company GLK Investment Ltd submitted the claim to "Eurocement AG" (head structure of holding "Eurocement group") for the sum $200 million. Krasnyansky sold to the partner 23,8 % of holding for $1 billion — this sum should be paid in parts till May, 2011, but in terms of crisis the schedule of payments was not executed.
Source: newspaper «Kommersant» № 206 (4261) from 11/5/2009
In March, 2010 it was informed that Georgy Krasnyansky decided to break off definitively relations with the former partner on "Eurocement group" Filaret Galchev. Company GLK Investments Limited of the mister Krasnyansky sold debts of mister Galchev ($600 million total sum) to structures of certain businessman Pavel Krotov. In whose interests the new creditor of the party of the transaction and itself "Eurocement group" operate – it was not discovered.
Source: newspaper «Kommersant» № 54 (4354) from 3/30/2010
A month later the press informed already that "Eurocement group" of Filaret Galchev informed about re-structuring of a debt at a rate of $600 million. Details about Pavel Krotov were found out – he was named the financial adviser of the president of the Chechen Republic Ramzan Kadyrov. The assumption was come out that the new creditor was interested in reception of one of the largest cement factories of the group in the North Caucasus — ZAO "Caucascement".
According to "Vedomosti" newspaper, mister Krotov represented interests of the nearest colleague Ramzan Kadyrov — the deputy of the State Duma Adam Delimhanov.
"For the Chechen Republic ZAO "Caucascement" belonging to "Eurocement" is especially interesting— one of the largest enterprises in Karachaevo-Circassian Republic (capacity — 2.98 million tons per year)", — argues one of the partners of "Eurocement group". He assumes that this active could be or is traded in debt parts, or put at re-structuring. Before crisis, "Caucastsement" cost not less than $540 million, participants of the market estimate."
Source: newspaper «Kommersant» № 64 (4364) from 4/13/2010
As "Vedomosti" knew it, Filaret Galchev returned $ 600 million to the lender, which, as believed, represent the interests of Deputy Adam Delimkhanov. Filaret Galchev gave Pavel Krotov $ 600 million, said one of the former employees of "Eurocement Group", and close to the people of the company. One of the creditors of the company said that Galchev had to borrow from Sberbank for this. That's about $ 700 million, according to a person of the Moscow government, familiar with the negotiations. On such a loan also knows people in the Sberbank. Krotov, who, according to market participants, represents Adam Delimkhanov interests, an ally of Chechen President Ramzan Kadyrov, became Galchev lender bought the debt at a discount at Gregory Krasnyansky in March. Krasnyansky was a partner of Galchev for "Eurocement", in May 2007, agreed to sell his stake for $ 1 billion. Galchev pledged to pay structure of Krasnyansky GLK Investment $ 200 million a year for five years, but paid $ 400 million, and there was no payment for 2009.
Close to "Eurocement Group" the man says that the deal is not closed. Galchev has no free money, he had to take out a loan, says one of his former employees. Galchev have a long association with Sberbank: in 2005 when he bought cement factories at Elena Baturina, all about $ 800 million on the transaction were engaged in Sberbank. Galchev also is considered one of the major shareholders - two years ago, he said, that he owns 1.85% of Sberbank. Galchev debt to Sberbank can now reach 49 billion rubles. It will not be easy for him to serve it: in 2009 "Eurocement Group" has reduced production to 15.5 million tones at a power of 38 million tons For two years the price of cement fell from 4787 to 1890 rubles per 1 ton (MSE data).
"Vedomosti". 24.05.2010
As "Vedomosti" knew it, the Savings Bank, and Suleiman Kerimov structures may be co-owners of the holding "Eurocement Group".
President of "Eurocement Group" Mikhail Skorokhod, said "Vedomosti" that "the only owner of the company is Filaret Galchev." Galchev himself claimed the same thing in an interview with "Vedomosti" in the beginning of the month. However, since then the information about the emergence of company's new owners spread quite widely. Share in "Eurocement Group" received Suleiman Kerimov, says businessman, familiar with State Duma deputy Adam Delimkhanov. Exactly for the settlement of the debt dispute with Delimkhanov, owner of "Eurocement Group" allocated the share of the business to intermediary - Kerimov, said the source "Vedomosti". The fact that the co-owner of "Eurocement Group" became Kerimov also knows close to his company "Nafta-Moscow" investment banker. The same information have the source in the Moscow government, familiar of Galchev and a banker, close to Sberbank - the largest creditor of "Eurocement Group". But the representative of the "Nafta-Moscow" Anton Averin told "Vedomosti" that this information does not correspond to reality. He refused from other comments.
Close to the Sberbank interlocutor of "Vedomosti" says that a small stake in the company - less than 10% - moved to the bank. The familiar of Galchev confirmed this. Sberbank press service declined to comment.
"Vedomosti". 30.06.2010
New shareholders of "Uralkaliy" led by Suleiman Kerimov, contrary to expectations, decided to change the president and general director Denis Morozov. This decision may be adopted next week, and Pavel Grachev of "Nafta Moscow" will head "Uralkaliy". According to unofficial information, Mr. Kerimov wants to expand not only its control over the company, but also herself by consolidating 51% of the main competitor of "Uralkaliy", "Silvinit".
As the "Kommersant" knows, co-owner of "Polyus Zolota" and "Nafta Moscow" Suleiman Kerimov, the founder of the ICT Group Alexander Nesis and owner of "Eurocement Group" Filaret Galchev decided to change the leadership of the "BRIC", where they bought 53.2% shares in mid-June. According to two sources of "Kommersant" on the market, the board of directors may take the decision about the resignation of Denis Morozov, which now holds the posts of the president and director general of the "Uralkaliy", next week. "The new shareholders want to control the work of the company by themselves and put their man on the key post", - said one of the sources. According to "Kommersant" interlocutors, the acting head of "Uralkaliy" will be the managing director of "Nafta Moscow", a member of "Polyus" Board of Directors Pavel Grachev. A representative of Mr. Kerimov does not comment the management changes in the "BRIC".
"Kommersant". 28.07.2010
September 23 without publicity married Alina Galchev, the daughter of Russian oligarch Filaret Galchev, the owner of "Evrotsementgroup" and the owner of almost three billionth financial states.
This event probably would not have been made public, if not a diary, which was conducted on behalf of Alina for seven months. Creating a blog, called "Diary of the Bride»(alisha-gal.livejournal.com), in December last year, when it was decided about the wedding, she personally - or someone on her behalf - honestly and punctually told about their preparations. "KP" publishes excerpts from the diary.
June 1 shopping for the wedding during my absence, we had time to visit Athens, Zurich, Lugano, Milan, Prague, Karlovy Vary, again in Milan and Mykonos. So, to sum up: 2 dresses (Dolce & Gabbana for the main day and short Pronovias for a party at the club); paint dry on the final version of the invitation; It has long been an open question of wedding rings. I fell like two variants: Ring in vintage style by David Morris and ring in the Greek crown shape from Carrera y Carrera. After weighing all the "pros" and "cons", was chosen in favor of the latter mainly because a wedding ring should not be too elegant, and that it would be able to swim in the sea without remorse and prepare dinner; recently I made a discovery for myself - how hard is it to choose a table setting. Imagine, you have to solve everything: cups, glasses, plates, napkins, decorations for the table, flowers on the table. We stopped at the Greek handmade tablecloths and not very elaborate dishes.
... And a golden diadem upon request.
"Komsomolskaya Pravda", 21.10.2010
The debt of "Eurocement Group" in the first half of 2010 increased more than doubled - to 61.4 billion rubles, follows from the statements of the company. The owner of the holding Filaret Galchev had to take a loan from Sberbank in the amount of $ 750 million (about 22.5 billion rubles.), to pay for its most distressed debt with businessman Pavel Krotov. Acting in the interests of the State Duma deputy from Chechnya, Adam Delimkhanov Mr. Krotov became a creditor of Filaret Galchev, in March; outbid his debt to the other founder of "Eurocement" Georgiy Krasnyansky.
"Kommersant" got acquainted with excerpts from statements of CJSC "Eurocement Group" under RAS for the first half of 2010, provided by one of the financial partners. According to the document, for the first six months the debt of CJSC increased by 33 billion rubles and amounted 61.4 billion rubles. (Plus 215% by the end of 2009). This was due to a loan worth $ 750 million (about 22.5 billion rubles.), obtained in the first half and directed to repayment of existing at the level of "Eurocement Holding AG" (owns 100% shares) debt. Maturity - 2015-2017 years. Thus, significantly increased the accounts receivable of CJSC - form 21 billion to 55.67 billion rubles, according to company materials. We are talking about a loan from Sberbank, which is needed toe the owner of "Eurocement" Filaret Galchev to pay with a businessman Pavel Krotov. Mr. Krotov in March 2009 bought the debt of Filaret Galchev for $ 600 million from his former partner in "Eurocement" Georgiy Krasnyansky. It is believed that Pavel Krotov represented interests of a State Duma deputy from Chechnya, Adam Delimkhanov.
"Kommersant". 28.10.2010.
Today OJSC "Uralkaliy" (Berezniki) informed about changes in the shareholders. Becounioco Holdings Limited has reduced its stake from 15 to 8%. Accordingly, from 0 to 7% increase in the share of the new shareholder - Cosmopro Trading Limited. Beneficiary of Becounioco Holdings Limited is a Russian businessman Filaret Galchev. A source close to the shareholders of "Uralkaliy", says, that Mr. Galchev also controls that new shareholder.
"Kommersant". 23.12.2010
Yet in autumn 2009, Rosprirodnadzor released data that in the "Maltsovsky Portland Cement", "revealed gross violations of environmental laws".... The management of "Eurocement Group", which includes "Maltsovsky Portland", hastened to declare that the company "has a long discussion of the possibility of building on the current basis of "eco-friendly cement line." Last fall, local ecologists surveyed the Fokino city, its surroundings and testified: "Cement dust detected in the air, houses, cars. In addition to the horrific abuses by the release of cement dust (its deposit on the earth's surface and objects, even several kilometers from the plant is such that examination is simply not needed), found a three-fold excess of maximum permissible concentration of ammonium and nitrate ions in enterprise wastewaters".
Physicians know that in areas, located next to the old cement plants, people suffer from rhinitis, pharyngitis, bronchitis and asthma more often, allergic diseases are very common there, especially among children.
.... Today "Eurocement" is one of the most powerful companies in the production of the main building product in Russia ... Why do they need to spend money on any treatment facilities and new technologies, if the plants of "Eurocement" work without them, bringing a very tangible return?
Galchev Himself is a quite curious figure in modern Russian business. Born in a small Georgian village in 1963. In 1991 he graduated from the Moscow Mining Institute, specializing in "mining engineer-economist". After university Galchev gets distribution in the Mining Institute. After graduation, Galchev gets distribution to Institute of Mining behalf of A.A. Skochinskiy where the deputy director for scientific work labored Krasnyansky Georgiy, the son of an influential official in Moscow Leonid Krasnyansky, who led the management of extra budgetary development planning of Moscow city (the capital building). A friendly relationship developed between yesterday's graduates and deputy director of the Institute.
It was a romantic time of the great cut of the Soviet economy, and any intelligent person realizes that there is a chance in the country to grab a piece of this, yesterday no man's economy. He needed only the knowledge, energy and communication.... It happens that these qualities were in abundance at Galchev and Krasnyansky: energy of one of them and a powerful communication of another helped them to form a business alliance, the result of which was the creation of "Republican Industrial Union on coal sales" a large trading company ("Rosuglesbyt").
Resources on Novy Arbat held a protest rally of residents of the metropolitan area "Pechatniki". Residents of the area demanded the head of Natural Resources and Department of Environmental Protection in Moscow the early closure of a cement silo "South Port" (property of "Eurocement Group"), which generously "pollinate" cement harmful emissions densely populated bedroom community not the first year.
...
... Curiously, that the traces of the "environmental activism" of Filaret Galchev are found not only in the central part of Russia, but even ... in a distant Greece. It seems that cement tycoon has chosen this ancient land as an "alternate airfield". According to the agency "Rosbalt" Galchev already received Greek passport in the name Filaretosa Kaltsidisa and began to build up a luxury villa in the town of Koroni in the Peloponnese even in 2007.
"Top Secret", 24.05.2011
The city authorities are considering the possibility of building housing and infrastructure facilities on the territory of the cement silo "South Port", said the deputy mayor of Moscow, Marat Khusnullin. According to him, negotiations with the owner of the land on which the plant is located are underway, - the owner intends to build a 300,000 sq. m of residential real estate, but the volume is too large for the city. The representative of "Eurocement Group" Filaret Galchev, who owns an elevator, declined to comment.
"Vedomosti". 08.11.2011
In 2002, a conflict occurred between the shareholders of "Stern-cement": Russia Partners Foundation with the support of Vadim Yukhnovich, ruler of a controlling stake of "Stern-cement", deposed the founder of the company Vladimir Sternfeld from the post of its president. The control package of "Stern-cement" put up for sale without the consent of Sternfeld, and businessman Filaret Galchev bought it. He told "Vedomosti" that an asset cost him "with debts of about $ 100 million." " The act of, representatives of Russia Partners is a real conspiracy," - complained Sternfeld to "Vedomosti". The mediator in the negotiations between the conflicting parties then acted Ponomarenko. "He advised somehow, helped," - says the son of the founder of "Stern-cement" Vladislav Sternfeld.
"Vedomosti". 02.04.2012
A person, close to "Uralkaliy", said that Prokhorov and Mazepin will buy the share of "Uralkaliy", which belongs to Swiss charitable foundation Suleiman Kerimov. Last summer, Representative of Kerimov announced that the endowment Suleiman Kerimov Foundation is the only beneficiary of structures, the beneficiary of which was Kerimov, businessman can not withdraw contributed assets.
The transaction will be made on the basis of the valuation of the company at $ 20 billion, he continues, which means that Kerimov will receive $ 4.35 billion for their 21.75% stake. In 2010, he paid $ 2.5 billion for the stake in "Uralkaliy".
It was for the sale of 33.55% of shares, except for Kerimov package, packages of Filaret Galchev (7%) and Anatoly Skurov (4.8%) were also offered to buyers, say familiars of top managers of "Uralkaliy", the employees of bank - company's creditors and acquaintances of applicants for it. In assessing the $ 20 billion for the company comes out $ 6.71 billion for the three packages.
Plus, the structure of "Uralkaliy" owns about 12%, purchased under the program of redemption, and the purchaser of all three packages will receive the actual control of the company, says one of the interlocutors of "Vedomosti", and Prokhorov and Mazepin, in order not to put minorities offer, can beat bought packages in such a way to dispense with partners.
It is not clear, when Skurov and Galchev will sell shares of "Uralkaliy". Representative of Galchev did not answer the questions; Skurov did not talk to "Vedomosti".
"Vedomosti". 11/18/2013
"Eurocement Group" of Filaret Galchev may invest $ 70-80 million in the modernization of three cement plants in Belarus, expect authorities of the republic. The group also guarantee owes to sell in Russia 2 million tons of Belarusian cement per year - this is 54% more than the volume imported by Belarusian manufacturers last year.
The Minister of Architecture and Construction of Belarus Anatoly Cherniy said yesterday about the possible investments of "Eurocement" in Belarus. In addition, "Eurocement" will be required to buy 1.5 million tons of Belarusian cement each year and send it to Russia, Minsk intends to supply the Russian market another 500 thousand tons a year independently. In 2013 Belarus had to import more than 90% of cement in Russia - about 1.27 million tons. According to managing partner of SMPRO Vladimir Gyz, the deal looks attractive for Belarusians, but the Russian market is growing too - in 2013, consumption reached a record 69.9 million tones (7% more than in 2012), and only 66.4 million tons was produced.
"Kommersant". 02/06/201
Russian billionaire Filaret Galchev can go into space instead of Sarah Brightman. The businessman has already started training in Star City. The flight to the ISS will be held in September. The Russian could become the eighth space tourist in history. Details have Alla Pugacheva and Anastasia Roizman.
52-year-old Filaret Galchev enters the top thirty of the richest people of Russia. According to Forbes, his financial state is estimated at $ 4.5 billion. The businessman owns almost all shares of "Eurocement Group" company. At its space Odyssey billionaire, according to media reports, is ready to spend about $ 50 million. At the moment he passes all the necessary tests, said a spokesman of the company "Eurocement Group" Andrew Urban.
"Kommersant FM". 01/06/2015
The yacht of "Eurocement Group" owner Filaret Galchev Sapphire has the same length as the Queen K of Deripaska, but it is newer - it was built in 2011. The yacht is made in a mixture of styles of modernism and art deco; the abundance of different wood finishes. Six cabins, which can accommodate 12 guests, complemented by sky-lounge, cinema, spa, pool, bars and the beach. The crew of 16 people living in a separate area. The yacht is equipped with a retractable helicopter pad and roll stabilization system. There is no data on the cost of the yacht, but in 2013 the 68-meter yacht Triple Seven, built by the same German company Nobiskrug to Russian billionaire Alexander Abramov was put up for sale for 39.75 million euros.
There are a lot of Positions in "Eurocement Group". For example, the surveyor required in Saransk - mining engineer (technician). Salary - from 26 thousand rubles. Enough it to accumulate for the contemporary "Sapphire" for 9245 years - and some money will remain refill.
"Top Secret", 9.10. 2015
The next shock feels "Mordovcement"! The company's management has initiated a mass dismissal. In the near future more than 600 employees will remain out of work! And, most likely, they are not waiting for an official reduction with relying three-month compensation and the ability to stand up to the Labor Exchange, but a dismissal "by mutual agreement". It is unknown, if the employees will get some "compensation" from the hirer in this case. The future of the "Mordovcement" itself, which passed into the hands of the new owner - billionaire Filaret Galchev and "Eurocement Group" a year ago, is also very uncertain. There were rumors about the imminent conservation of the leader of Republican industry.
"Capital C". 12/15/2015
The owner of "Eurocement" Filaret Galchev lost almost $ 700 million for the month and a half. This happened after the margin-call of the Sberbank loan, in which he laid 6.12% stake of cement producer LafargeHolcim in January.
Financial state of the owner of "Eurocement Group" Filaret Galchev decreased by almost 70% since December, from $ 1 billion to $ 305 million, indicates Bloomberg Billionaires Index. In mid-2014, according to the index, the businessman's assets were estimated at $ 5.6 billion.
In addition to the 100% of "Eurocement", until recently Galchev controlled 6.39% of the Swiss company LafargeHolcim, one of the world's leading manufacturers of building materials. However, according to Bloomberg, the businessman had to part with the most of the package, worth about $ 1.5 billion, after Sberbank announced margin-call on the loan of Swiss Eurocement (also controlled by Galchev).
According to sources of Financial Times, 6,12% of LafargeHolcim Galchev collected on loans to Bank of America Merrill Lynch, which sums are not disclosed by the publication. The company's shares were collateral for these loans. But the cost of LafargeHolcim is reduced since the summer of 2015 - the last six months it has fallen by more than 40% due to the global decrease in demand for building materials. Therefore, the bank demanded to increase security for the loans, reporting FT.
"RBC", 02/09/2016
The owner of "Eurocement" Filaret Galchev is no longer a billionaire. Agency Bloomberg reported about it. According to mass media reports, this is due to the falling value of Galchev assets, because of which Sberbank announced a margin-call on loan of "Eurocement". Details have Inna Sidorkova.
In mid-2014 Bloomberg billionaires index measures the financial state of 52-year-old Russian businessman Filaret Galchev of $ 5.6 billion. In December last year it was reduced to $ 1 billion, and in February of this year amounted to only $ 155 million. January 21, Filaret Galchev received a loan from Sberbank, which is provided by a six percent stake in Lafarge and Holcim Limited valued at $ 1.5 billion. However, earlier this month, Sberbank sold the shares, acquired from Galchev with 9% discount. Filaret Galchev - not the first Russian businessman, who lost a large foreign asset because the margin call was provided by his credit. The head of retail and real estate group of the newspaper "Kommersant" Khalil Aminov noted it.
"Kommersant FM". 02/10/2016