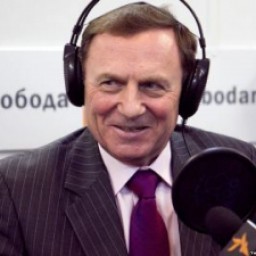 Bio:
Ivan Rybkin was born on 20 October, 1946 in Semigorka village, Voronezh region. In 1968 he graduated from the Volgograd Agricultural Institute, in 1991 he completed his studies in the Academy of Social Sciences under the CPSU Central Committee, in 1993 he graduated from the Diplomatic Academy under Ministry of Foreign Affairs of Russia. He is a doctor of technics, doctor of politics, university professor.
In 1968-1969 he worked as a senior engineer for Zavety Ilicha collective farm in Novoannenski district of the Volgograd region.
In 1991he headed Central Committee department of the Communist Party of the Russian Soviet Federated Socialist Republic, then he was head of Central Committee of the Agrarian Party.
In 1994-1996 Rybkin was chairman of the State Duma of the 1st convocation.
October 21, 1996 - March 1998 - secretary of Security Council of Russia.
1 - 23 March, 1998, up to the resignation of the Government - Deputy Prime Minister responsible for concerns of Chechen Republic and Commonwealth of Independent States in the cabinet of Viktor Chernomyrdin.
In 2004 Rybkin nominated himself for presidential elections and enjoyed the support of Boris Berezovsky but on February 2004 he withdrew his candidacy.
He is married and has a daughter.
Source: Wikipedia

Dossier:
In 1996 income declaration of the secretary of the Security Council Ivan Rybkin was published. In 1995 Ivan Rybkin purchased Swedish Saab-9000 car. The declaration did not specify cost of the car. Previously Rybkin's car was declared as Volga in Duma papers. An apartment at Protochny lane that had an area of ​​176 sq.m. was not earlier mentioned in papers on housing of State Duma deputies. While being the Speaker, Rybkin got the state apartment for temporary residence but later he privatized it. The apartment value was 548 million rubles, as was stated in the declaration, that is less than $ 500 per square meter. But in fact he owned not one, as he claimed, but two adjacent apartments on the same landing. Rybkin, as well, did not declare his five-room apartment in Zvenigorodskaya street, 12, measuring 220 square meters. On October 1995 this apartment was reported to be purchased by a certain Yaroslavsky from the family of aircraft designer Ilyushin for 800 thousand dollars which was quite in line with its real value, as real estate agents confirmed. During a year maintenance crew was working at the apartment. They replaced practically new oak parquetry and demolished partition walls.
Source: FLB, 19 June, 1997

On 4 July at the political council of the Liberalnaya Rossiya (Liberal Russia) party Boris Berezovsky's supporters nominated Ivan Rybkin as their acting party leader, as Mr. Rybkin himself yesterday announced. When interviewed by Kommersant, Rybkin said that all six members of the political council had been present at the meeting as well as Boris Berezovsky, the party leader, who had taken part in the council through video-conference with London. The political council was "urgently convened because of the critical state of the party as co-chairman Mikhail Kodanev is in prison while Boris Berezovsky, the leader, is in London." The meeting was held behind closed doors.
Rybkin himself stated that he had agreed to take the leading position "after long consideration". And the "final straw that made a decision" was the death of State Duma deputy Yury Shchekochikhin.
Source: Kommersant, 8 July, 2003

On 2 February, 2004 Rybkin publicly accused Putin's administration of unleashing the Second Chechen War and corruption. Rybkin said that he had conclusive evidence of the Putin's participation in the business. According to Rybkin, Putin's business is being run by Roman Abramovich, Gennadi Timchenko and Kovalchuk brothers. Shares of NTV and Pervy Kanal TV-companies, as well as Surgutneftegaz oil company and many other corporations are held by people personally controlled by Putin. Rybkin claimed that Putin was major tycoon in Russia.
Source: Kommersant, 2 February, 2004

On 5 February, 2004, in the evening, Ivan Rybkin disappeared. On 8 February Rybkin's wife applied to the Arbat police department. On the same day Moscow police opened the investigation case.
Source: Kommersant, 11 February, 2004

On 10 February, 2004 Rybkin was found. At 22 p.m. he appeared at the Moscow airport. He arrived from Kiyiv. Rybkin said that he had taken a break and had come to visit Ukrainian friends incognito without leaving a note for his kin.
Source: Moskovsky Komsomolets, 2 March, 2004

On 13 February, 2004 Rybkin took a flight to London and there he stated his case in a different way. As Rybkin claimed, former member of the committee on search for missing people in Chechnya Gokhan Arsaliev phoned him and said that Aslan Maskhadov asked for a meeting. Former Chechen president Maskhadov make a rendezvous with him in Kiev since Rybkin, as it befits to a liberal, was not able to refuse.
Then Arsaliev secretly took Rybkin from home, drove him to Kaluga, get him on a train from Moscow to Odessa. There Rybkin was awaited by mysterious strangers of Slavic appearance and then he got hot tea, long-term oblivion, interrogation and abuse ...
Source: Gazeta, 16 February, 2004

On 14 February, 2004 Berezovsky's employee, former Federal Security Service officer Alexander Litvinenko published a commentary on Rybkin's statement. Litvinenko claimed to know what kind of controlled substance impacted presidential candidate: "Everything that happened to Rybkin indicates that psychotropic drug SP-117 was used against him. The drug is being used by FSS counter-intelligence and antiterrorist departments for the exclusive targets."
Source: Lenta.Ru, 14 February, 2004

On 5 March , 2004 Ivan Rybkin announced his withdrawal from the presidential election. The election campaign lost its most amusing character. Rybkin was nominated for presidency exclusively for representing publicly his views on current circumstances of Russia and for reminding to the society of his friend Boris Berezovsky.
Source: Lenta.Ru, 5 March, 2004

On August 2011 the opposition political group applied to Moscow city hall for arrangement a rally and procession on the Russian flag Day. The application as well was signed by Ivan Rybkin, the first the chairman of the State Duma in the new history of Russia.
Now I can see, to put it mildly, strange things happening in the country – Rybkin said . - When people who were responsible for adoption of the flag, defended the flag, people like Boris Nemtsov, Aksyuchits, Astafiev, Ponomarev go into Moscow streets waving the flag and they are immediately put into the jug, I am sorry to say ... I think that neither the president nor the prime minister, nor the chairman of the State Duma nor the Federation Council chairman, let alone the mayor of Moscow, have right to prohibit this kind of procession, all the more it corresponds to the 31st article of the Constitution, we put a lot work into it as well . Don't take people for fools! Because they can suffer and suffer for a long time and then rise all of a sudden! These guys, they were talking good things at the beginning of their career but the matter is they easily took their words back. Even Boris Yeltsin was mostly disappointed with his expectation for the successors.
Source: Radio Liberty, 22 August, 2011