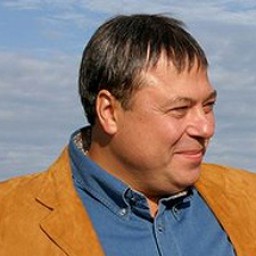 Biography:
Sergey Mikhailov was born on February 7, 1958 in Moscow.
After secondary school he entered courses of English speaking headwaiters and after graduation he worked as a waiter in the restaurant "Soviet". When he was 26 he got to prison for the first time on charge of plunder by swindle. As it comes from the court sentence, Sergey Mikhailov staged theft of a motorcycle and unreasonably received insurance payment for that. He stayed in pre-trial detention center for more than half a year while investigation and trial were completed. The Moscow City Court was kind to the headwaiter who went wrong for the first time: he was put on probation for 3 years and released. Headwaiter's skills became unnecessary any more, but experience of the sub-master sportsman on Greco-Roman wrestling was useful. Local youngsters co-operated with prison-experienced fighter, and also with his friend sportsman Victor Averin (Avera-senior).
In 1989 Sergey Mikhailov was arrested for the second time. Together with Sergey Timofeev and Victor Averin he was accused of extortion of money, and Volvo cars at the chairman of co-operative society "Fund" Vadim Rosenbaum. Mr. Mikhailov stayed on his trial on charge of extortion for one year and eight months, then the case against him was nolled in the absence of proof of guilt.
In November, 1994 the State Office of Public Prosecutor and FSB arranged a search in the apartment of Sergey Mikhailov in Solntsevo based on criminal case for numerous episodes of bribery in the Moscow police. "Authorities" and lawyers were involved in giving bribes, and police officers, district Offices of Public Prosecutor and regional courts - in taking bribes. Victor Klestov -one of the accused of giving bribes - regularly used number of room phone of Sergey Mikhailov which before Mikhailov's departure had been switched to the cafe where Mr. Klestov worked.
In 1995 Sergey Mikhailov became the honorary consul of Costa Rica in Russia. However, the Ministry of Foreign Affairs of the Russian Federation didn't confirm him at the post. Then, in May, 1995, Sergey Mikhailov was arrested in Prague at Victor Averin's birthday party where according to police data more than thirty representatives of Solntsevo group gathered. At the same day everyone was released but Czech authorities forbade to Mr. Mikhailov and Mr. Averin entering the territory of the country.
In the mid-nineties Sergey Mikhailov and Victor Averin founded welfare fund "Participation" helping the church, prisons and orphanages. This fund paid, in particular, manufacturing of a belfry consisting of nine bells for the church in village Fedosino (expenses exceeded 100 million not denominated rubles).
On October 15, 1996 Sergey Mikhailov was arrested at the airport of Geneva on suspicion in an affiliation to the organized criminal group and law violation on land tenancy in Switzerland (house purchase on the figurehead).
In December, 1998 the Swiss court recognized as insolvent the accusation brought to Sergey Mikhailov that he "in the eighties created the criminal organization known under the name "Solntsevo" and became its leader under a nickname of "Mihas". Cleared Mikhailov was released and came back to Moscow.
In October, 1999 he became the candidate from conservative party on one-mandatory Taganrog district. After only two days he lost the candidate status as he did not specified his Greek citizenship in the documents submitted for registration.
2001-2002: all countries of the Schengen agreement and also the USA, Hungary, Latvia and Tunis refused giving entry visas to Mr. Mikhailov. The authorities of France answered for his inquiry that they did not let him enter the country "on safety reasons".

Source: Newspaper "Kommersant" # 107 (2476), from 6/25/2002
Dossier:
Sergey Mikhailov was mentioned for the first time in serious mass-media in 1991 in connection with murder of Valery Vlasov –director of a casino "Valery". Mihas was arrested on suspicion of commission of this crime for three days allotted by CPC for indictment and released in the absence of proofs. After that, according to some information, Mihas left to Germany.

Source: Newspaper "Kommersant" # 219 (442), 11/13/1993
A bit later journalists remembered Mikhailov in connection with murder of one of the criminal leaders Sergey Timofeev (Sylvester) which was regarded as a feign. In September, 1994 in the center of Moscow Mercedes-600 was blown up. In the salon of the car which burnt down after explosion the disfigured corpse was found. In some days detectives of Moscow criminal investigation department declared that a well-known criminal authority, the leader of Orekhovskaya group Sylvester was killed. A body was solemnly buried at Khovansky cemetery. Later police officers said they saw a person similar to Sylvester at the crime place. He kind of looked at policemen and smiled.
In this connection it was written that Mikhailov and Timofeev started cooperating in 1989 when "Slavic" groups faced conflicts with the Chechen groups. Orekhov group headed by Timofeev cooperated with gangsters of "Solntsevo" and "Lenin" groups. "Solntsevo" was supervised by the former waiter of restaurant "Crystal" Sergey Mikhailov (nickname Mihas) and "Lenin group" - by the native from "Solntsevo" team, the former fireman Boris Antonov (nickname Borya-Anton). In one of showdowns with the Chechens at restaurant "Havana" Borya lost an eye. After that Antonov obtained a new nickname — the Cyclops. Later their relations were damaged.

Source: Newspaper "Kommersant" # 34 (752), 2/24/1995
Next time Mikhailov became interesting for the press in connection with scandalous criminal case when lawyer Dmitry Yakubovsky was accused of theft of manuscripts from the Russian national library. The sources close to FSB informed that Yakubovsky was the authorized representative of the leader Sergey Mikhailov. As one of documentary proof of this fact was called the contract according to which Mihas conceded to Yakubovsky the right to dispose of all his property in Russia. And three weeks before his arrest Yakubovsky illegally got into the apartment of Mihas sealed up by the State Office of Public Prosecutor where there was a property arrested by an investigation.
In this connection it was informed that inspectors found and withheld two certificates from Mikhailov. One gave him right of unobstructed pass to Presidential Administration of Russia (as to the employee). The second certificate testified that he is the journalist of company CNN.

Source: Newspaper "Kommersant" # 100 (818), 6/1/1995
In the end of 1995 journalists mentioned Mikhailov in connection with official visit of delegation of the Ministry of Internal Affairs of Austria to Russia. The arrangement on intensive information interchange about "new Russians" coming to Austria for a constant residence was reached as a result. According to the data of the MIA of that time Austria was especially popular within the largest in Moscow and area Solntsevo criminal group supervised by "godfathers" Sergey Mikhailov (Mihas) and Victor Averin (Avera). In the center of Vienna Solntsevo group got some magnificent private residences and opened its office in one of them. Besides, recently the citizens of Russia connected with criminal environment opened commercial structures in Austria which were obviously used for laundering money stolen in the homeland. Struggle for the control over those structures more often led to gangster showdowns.

Source: Newspaper "Kommersant" # 190 (908), 10/13/1995
Later journalists found out that Mikhailov was the honorary consul of Costa Rica. They learnt from the message of official sources that the Ministry of Foreign Affairs of Costa Rica dismissed Mikhailov from a post of the honorary consul of this country in Moscow. According to the Ministry of Foreign Affairs of Costa Rica the reason for his dismissal from honorary consuls was the article in "Izvestia" where it was reported with the reference to FSB that in Russia he supervised over a brigade which was engaged in racket and wheedling debts out. Mikhailov's lawyer who was invited in "Kommersant" office named the article in "Izvestia" as "bullshit".
The foreign policy department of Costa Rica declared that they made investigation, and by its results Mikhailov was dismissed from a post of the honorary consul. However investigation proceeded: the Ministry of Foreign Affairs checked reliability of the data which appeared in a press that Mikhailov bought a diplomatic passport of Costa Rica for $95 thousand.
Appointment of Mikhailov (in 1995 living in Austria) as the honorary consul of Costa Rica in Moscow took place in February, 1994. As it was found out, Sergey Mikhailov was appointed to this post under the recommendation of two well-known politicians of Costa Rica — the former deputy minister of foreign affairs Carlos Rivera Biancini and the chairman of party in power National clearing Rolando Araja Monhe. Biancini asserts that he became a victim of trustfulness as the nominee of Mikhailov was offered to him by one of authoritative lawyer offices in Israel connected with him by business needs. The Israeli lawyers, the former deputy minister said, presented the Russian as "the succeeding businessman showing interest to Central American region".

Source: Newspaper "Kommersant" # 214 (932), 11/18/1995
Throughout this story journalists continued to investigate foreign commercial interests of Mikhailov. They wrote, in particular, that he headed company MAB International in Belgium and also became the councilor of directors of company Karta auto brokers Inc. (Houston, the USA).

Source: Newspaper "Kommersant" # 240 (958) from 12/27/1995
Next time Mikhailov was mentioned in connection with drugs traffic through Russia and Europe. In particular journalists wrote that after the thief in the law Vyacheslav Ivankov (Jap) moved to the USA he agreed there about the drugs traffic with representatives of Cosa Nostra. Negotiations took place in Vienna. The Russian organized crime was presented by Jap, authorities of Solntsevo group Mihas and Avera and also people from Krasnoyarsk criminal group. Italians were presented by heads of several families. Colombian drug dealers from Medelian cartel of Eskobar interested in the extensive Russian market mediated the negotiations. The negotiations were listened and recorded by the officers of the Interpol. After long debate the agreement was signed: Russians were to import cocaine, heroin and some kinds of synthetic drugs, and export vegetative raw materials. Thus they should have paid to Italians a few million dollars weekly.

Source: Newspaper "Kommersant" # 137 (1095), 8/23/1996
In the autumn of 1996 Mikhailov was detained by police of Geneva on suspicion of affiliation to the organized criminal group, law violation on real estate tenancy in Switzerland and rules of stay of foreigners within the territory of this country.
Recently before detention Sergey Mikhailov, his wife Ludmila, their daughters Alexandra and Veronica lived in a private residence in small town Boreks of the Swiss Vaud canton. Mihas seldom appeared in public and diligently avoided any contacts to police. Mihas went for rare meetings with business partners by blue "Rolls-Royce" with the Belgian numbers which was registered in Antwerp for company MAB International (this firm belonged to Mikhailov).
Mikhailov's caution was caused by the fact that he was wanted for a the long time by the police of the USA, Belgium and Israel. The Belgian police suspected him of the organizing an international network of prostitution and large-scale drug traffic in the Western Europe. As for the USA, according to FBI information Mikhailov and his partner Victor Averin (in Russia he is known as Avera-senior) managed the firm in New York which was supervised by Vyacheslav Ivankov (Jap). FBI found out this firm while investigating Jap's activity. Studying the transactions concluded between companies of Ivankov and Mikhailov FBI discovered the facts of laundering large sums of money of criminal origin.
According to FBI controlling interests of several Moscow hotels had been got for the laundered money. Besides, Mikhailov and Ivankov invested the large sums to one night club in the capital and also to development of a prostitution network in Hungary and Czech Republic. This part of "investment program" was carried out by criminal authority Simeon Mogilevich.

Source: Newspaper "Kommersant" # 181 (1139), 10/24/1996
In January, 1997 it was written in newspapers that the general public prosecutor of Russia Jury Skuratov agreed with the Swiss colleagues that the Swiss banks would give out the information about bank accounts in Switzerland belonging to citizens of Russia by inquiries of Office of Public Prosecutor. Accounts of Sergey Mikhailov well-known also under a nickname of Mihas was supposed to become the first Swiss account which could be accessed by the Russian public prosecutors.
In 1994 the Swiss authorities made the list of 300 natives of Russia whom they suspected of close connections with Russian mafia. Having informed in advance Swiss banks in which those 300 persons opened the accounts the Office of Public Prosecutor of Switzerland demanded from these people to transfer money from the Swiss banks. In Switzerland during ultimatum action branch of ONEXIMBANK "for service of the Russian clients" was opened in right time. According to the Swiss authorities, means from the Swiss "Russian" accounts had been transferred there. Swiss sighed with relief.

Source: Newspaper "Kommersant" # 1 (1183), 1/31/1997
The following reason for mentioning Mikhailov in the press appeared in connection with the information that Solntsevo criminal group organized murder of the chief of Moscow branch of Regional Administration of a Fight against Organized Crime Nikolay Uporov — the main witness on Sergey Mikhailov's case which was considered in the Geneva court. According to Uporov, it was made as revenge for his evidences in court.

Source: Newspaper "Kommersant" # 115 (1297), 7/22/1997
In a few days later journalists started talking about Mikhailov again in connection with murder of the head of joint venture "Tirol" 34-year-old Vadim Rosenbaum in the Dutch city Oirschot. In Russia he was known as one of the most successful businessmen of the first wave to whom leaders of underworld and police showed constant interest. According to journalists, Rosenbaum was supposed to appear in the Swiss court as the witness in the case of Mihas.

Source: Newspaper "Kommersant" # 122 (1304), 7/31/1997
In August, 1997 representatives of investigating bodies of Switzerland engaged in case of Solntsevsky authority Sergey Mikhailov (Mihas) applied for assistance to the Israeli colleagues. According to the Swiss evidences of Grigory Lerner arrested in Israel in May of this year evidences can essentially help to investigation. It is necessary to notice external similarity between Mikhailov's case in Switzerland and Lerner's case in Israel. Both Mihas and Lerner became victims of struggle against "Russian mafia" begun by police of the different countries (in same list there is a thief in the law Jap condemned in the USA and "authority" Jury Yesin (Dump truck) arrested in Italy). Both were suspected of serious crimes. If Lerner is incriminated financial frauds for millions dollars and payoff of officials as the head of the First Russian-Israeli financial company, then Mihas was incriminated management of the largest criminal group of Russia. It was uneasy to prove those charges in court both in Israel in Switzerland.

Source: Newspaper "Kommersant" # 143 (1325), 8/29/1997
It is curious that on process in Switzerland the former Minister of Justice of the USA Reims Clark stood up for Mikhailov. The former Minister of Justice of the USA as it was found out from his own explanations did it absolutely disinterestedly (moreover, this trip cost him $1,5 thousand) for the only purpose to convict the disgraceful agent of FBI Robert Levinson who was the witness of charge against Mikhailov in Geneva court.

Source: Newspaper "Kommersant" # 15 (1418), 1/31/1998
In December, 1998 the most scandal lawsuit of the year came to the end with Sergey Mikhailov's justification on the main points of charge and deportation home. Since the past Saturday Mihas is in Moscow. The show trail over the Russian mafia arranged by the Swiss authorities failed.

Source: Newspaper "Kommersant" # 233 (1636, 12/15/1998
It is interesting that next time Mikhailov came into the view of mass-media in connection with traditional interest of journalists to Anatoly Chubays. In particular it was found out that there was a direct connection between the Russian power monopoly of the RAO UES and the firm which appeared in the center of scandal concerning "Russian" accounts in Bank of New York. It was referred to the firm "Arbat International" founded in the British offshore zone in La Manche by businessman Simeon Mogilevich.
"Arbat" actually belonged at that time to Sergey Mikhailov (Mihas) and also to one of his assistants Victor Averin living in Budapest. "Arbat" owns 20 % of shares of the Moscow Timbre-bank and 30 % of shares of this bank belong to the RAO UES; moreover, the RAO UES carries out currency payments through the Timbre-bank. That is Chubays, Mogilevich and Mihas are affiliated persons.
As press-service of the RAO UES informed the firm "Arbat International" was deduced from founders of Timbre-bank already in 1996, i.e. long time before Chubays came to the RAO UES. Not currency transactions but only salary payments are made through Timbre-bank (some employees of the Russian Open Society have cards of Timbre-bank) — of course, in rubles. At last, the RAO UES owns today only 2,94 % of shares of bank.. That affiliation has not been found out. However, this comment of the RAO UES looked not very convincingly.

Source: Newspaper "Kommersant" # 161 (1805), 9/7/1999
In 1999 Sergey Mikhailov decided to become the deputy of the State Duma. He was registered under # 16 of federal pre-election lists of LDPR.

Source: Newspaper "Kommersant" # 172 (1816), 9/22/1999
However, check of applicants for the deputy mandate arranged by Central Electoral Commission gave the first results. The federal list of LDPR was removed from registration.

Source: Magazine "Kommersant" # 42 (343), 10/26/1999
However, quickly having seen that it's not possible for him to pass under federal lists Mikhailov as well as some other applicants tried to be registered on one-mandatory districts.

Source: Newspaper "Kommersant" # 198 (1842), 10/28/1999
Eventually Mikhailov became the candidate, but he didn't manage to become a deputy.

Source: "Interfax", December 2009
In 2000 the Swiss court satisfied the claim of Mikhailov regarding recovery of $530 thousand missed benefit for two-year stay in the Swiss prison from the authorities of Geneva. Mikhailov was accused of participation in Solntsevo criminal group, however in the end of 1998 he was justified by court of Switzerland.

Source: Newspaper "Kommersant" # 134 (2019), 7/25/2000
In the beginning of 2001 Mikhailov expressed himself in protection of the former high-ranking Kremlin official Pavel Borodin arrested in the USA. Mr. Mikhailov was presented to the journalists gathered in the press center of the newspaper "World of news" as "outstanding Russian businessman". He began from a far — with history of feudal dissociation: "Russia then was on a losing side all the time. And when it got united it started winning". But probably it was the epigraph to a meeting because then without any visible link to aforesaid Mr. Mikhailov declared that the "situation with Pavel Pavlovich Borodin was clear to him as to nobody else".

Source: Newspaper "Kommersant" # 10 (2140), 1/23/2001
In June, 2002 in Mikhailov's house in Moscow the search within the investigation of the criminal case about extortion and abduction of the person by Office of Public Prosecutor of Naro Fominsk was made.

Source: "Kommersant", 6/24/2002
And in the beginning 2010 journalists became interested with Mikhailov in connection with Ukraine scandal. The vice-president of Security service of Ukraine Vasily Krutov confirmed the information about preparation of attempt at the prime minister Yulia Timoshenko. Mr. Boiko declared that behind the attempt organization there could be structures which were not interested in change of owners of Nikopol factory of ferroalloys.
According to journalists, representatives of foreign special services had data that behind the attempt organization there could be structures to which change of owners of Nikopol factory of ferroalloys (NFF) was not profitable, and also the criminal group of Sergey Mikhailov known as Mihas. However, they did not specify the reasons for which Timoshenko's death could be favorable for Mikhailov.

Source: "Kommersant-Ukraine" # 48, 3/19/2010