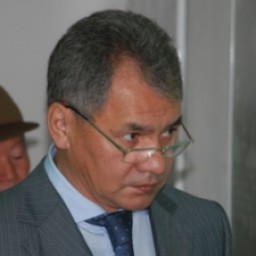 Biography:
Shoigu was born on 21 May, 1955 in Chadan city of the Tuva Autonomous Region. In 1977 he graduated from Krasnoyarsk Polytechnic Institute, having acquired a profession of an engineer.
1977-1988 master, supervising foreman, taskmaster, manager of Promhimstroy (Krasnoyarsk city), Tuvinstroy (Kyzyl city), Achinskalyuminiystroy (Achinsk city), Sayanalyuminstroy (Sayanogorsk city), Sayantyazhstroy and Abakanvagonstroy (Abakan).
1988-1989 second secretary of Abakan City Committee of the Communist Party of the Soviet Union
1989-1990 inspector of Krasnoyarsk Regional Committee of the Communist Party
1990-1991 deputy chairman of the RSFSR State Committee on Architecture and Construction
1991 chairman of the Russian rescue corps.
1991 chairman of the RSFSR State Committee on Emergency Situations
1991-1994 chairman of the State Committee of Russian Federation for Civil Defense, Emergencies and Elimination of Consequences of Natural Disasters
In 1992 he was appointed deputy head of the interim administration of the North Ossetia and Ingushetia during Ingush-Ossetian conflict
1993-2003 сhairman of the National Commission of the Russian Federation on the conduct of the UNO International Decade for Natural Disaster Reduction
1994 Minister of Civil Defense and Disaster Management of the Russian Federation. From 10 January to 7 May 2000 he was Deputy Prime Minister as well.
1996 supervisor of the presidential election campaign in the regions of the Russian Federation
Since 1996 Shoigu has been a member of the Russian Security Council
Since 2001 he has been a member of the Maritime Board under the Government of the Russian Federation.
Since November 2009 he has been the president of the Russian Geographical Society.
Awards
Hero of the Russian Federation (1999)
Order For Merit For The Fatherland 2nd Class (2010)
Order For Merit For The Fatherland 3rd Class (2005)
Order of Honour (2009)
Order For Personal Courage (1994)
Defender of Free Russia medal (1993)
Medal In Memory of the 850th Anniversary of Moscow
Medal In Memory of the 300th Anniversary of St. Petersburg (2003)
Honorary title of Merited Rescuer of the Russian Federation" (2000)
Medal In Memory of the 1000th Anniversary of Kazan (2005)
Shoigu is a General of the Army and a member of the Supreme Council of Edinaya Rossiya governing party.
He is married to Irina Shoigu, the president of Expo-EM company specialized in business tourism.
Shoigu married Irina, a daughter of chief engineer of Achinskalyuminstroy trust Alexander Antipin, and took his place a few years later. At that time Shoigu's father-in-law was on friendly terms with the first secretary of Achinsk Communist Party Committee Oleg Shenin, who later became a secretary of the CPSU Central Committee, and is now known as a member of opposition party. Antipin and Shenin took Shoigu under their patronage.
When his wife's parents moved to Abakan, Abakanvagonstroy trust was established for their son-in-law. Later, in 1988, Shenin made Shoigu secretary of the Abakan City Party Committee on Construction.
Shoigu has two daughters,Yulia, the head of the Psychological Care Emergency Center under Ministry of Emergency Situations of Russia, and Ksenia, now a student of the economic department of the Moscow State Institute of International Relations.
In 2010 Shoigu's income was over 4 million rubles. Besides, he owns two land plots that have total area of more than 19 thousand square meters, and a house with utility structures measuring ​​477.3 square meters. Shoigu as well declared ZIM GAZ 12 car. Shoigu's wife earned 54.6 million rubles.
Sources: Wikipedia
Dossier:
On August 1991 Shoigu actively supported Boris Yeltsin and was later awarded Defender of Free Russia medal. Thus, Shoigu disagreed with his patron Oleg Shenin who assisted him in taking high positions at Krasnoyarsk Communist party office. In 1993, during a confrontation with the Supreme Soviet, Yeltsin relied on Shoigu once again. On the night of October 4 at the request of Yegor Gaidar Shoigu's agency was allowed to distribute arms between its officers.
Source: Polit.ru, 28 September, 1999
In 1996 and 1999-2000 Shoigu took an active part in the election campaigns. In 1996 he was commended by Yeltsin for "arrangement and conduct of the presidential election campaign." He also supervised presidential campaign in the regions of the Russian Federation. In 1999 he headed Υedinstvo (Unity), the newly formed inter-regional movement, which managed to get 23.32 percent of votes at parliamentary elections and was second only to the Communist Party of the Russian Federation. The success of the movement made Vladimir Putin's task easier, as Shoigu supported him outright during the presidential election.
Source: Gazeta.Ru, 31 August, 2003

Yeltsin trusted Shoigu so much that he charged him with the most sensitive missions far from rescue issues. For instance, on 8 October 1998 in Tripoli Shoigu discussed with Qaddafi and Badri, the Minister of Petroleum and Energy of Libya, business schemes that allowed to evade international sanctions that were set by UN Security Council against Libya. Presumably, Russian oil lobby in the person Berezovsky and Abramovich was behind the negotiations.
Source: Flb.ru, 28 January, 2000

By the end of the 90-s Shoigu managed to build up ''Emergency Management empire'' that had more generals and funds than the Ministry of Defence. In order to"secure the existing constitutional order", Special Forces rescue corps were staffed with former employees of Alpha and Vympel elite military units as well as with special mission units of the General Staff of the Main Intelligence Directorate. MES armed units numbered about one million people.
All the money aimed at reduction of the consequences of the Chernobyl disaster and elimination of nature disasters were paid into acccounts of the Ministry of Emergency Situations.
MES was fantastically wealthy department since it was also given a right to be engaged in business. The Ministry owned large commercial organization - EMERCOM agency. MES also took part in gambling business- it was one of the co-founders of Bingo lottery. Shoigu himself built a palace at Rublevskoye highway that cost him 6.8 million dollars.
Source: Versiya, 28 August, 2001

While being a government member, Shoigu showed himself an extremely cautious and tolerant politician. He pointedly distanced his department from politics and kept the right to political activity only for himself. Shoigu was reported to take an advantageous position, as he took the responsibility not for disaster prevention, but for elimination of the consequences and restoration of the ruined places: he preferred to supervise rescue operations personally, publicly accused local officials of negligence and took personal responsibility for eliminating the consequences of disasters. Thus, through constant demonstration of his efficiency, he gained political credibility, as well as worthy funding and permission to absorb allied organizations.
Source: Kommersant-Vlast, 27 February, 2006


In summer 2010 Shoigu, who oversaw the extinguishing of forest conflagrations, estimated the fire damage at about 12 billion rubles, including the costs on rebuilding houses of fire victims, but independent experts say the overall damage could make over 450 billion rubles. Shoigu and MES were criticized by journalists for poor equipment and unpreparedness for large-scale natural disasters. Shoigu himself stated that the MES was not responsible for extinguishing or fire prevention according to the Forest Code, as the department was not mentioned in the law. So he partially lay the blame on the Federal Forestry Agency that was tardy to let him know that the situation was getting out of control.
Source: RBC, 19August, 2010; Nakanune, 20 August, 2010


Mikhail Prokhorov, one of the richest Russian businessmen, will be the first in the election list of Pravoye Delo political party to participate in State Duma elections representing the Krasnoyarsk region. Prokhorov is not alien to the region: he has actively developed his business there, namely Norilsk Nickel company, and he is one of the major taxpayers in the region. In response, Edinaya Rossiya, the governing party, proposed a strong competitor for Prokhorov – the party of crooks and thieves (c). In the Krasnoyarsk region Edinaya Rossiya will be represented by Minister of Emergency Situations Sergey Shoigu. Shoigu said he considered that region as his home and displayed excellent knowledge of the region problems. Blogging community was unanimous in reaction to the report on it: Apparently, Edinaya Rossiya is rather afraid of Prokhorov's popularity in Krasnoyarsk since it put forward a heavyweight against him.
Sources: Zet-News.ru, 12.09.2011