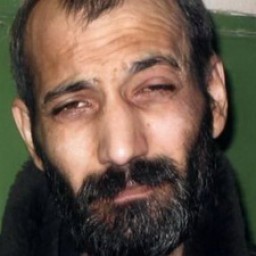 Biography:
Born January 1st 1966 in Georgia.
Sumbat Abasov belonges to Yazidi branch of Tbilisi "thievish" family, with unchallenged leader Ded Hasan in the head for many years. Sumbat was "crowned" at suggestion of himself in 1990 in place of imprisonment in Georgia. To "crown" of Ambasov some "thieves" entered the territory of Rustavskaya colony, where Sumbatov served his 7 years term for theft. They say that among the participants of "crowning" was "thief within the law" Shakro Molodoy.
In the middle of 1990s in the biography of Ambasov there happened an incident, which nearly cost him the "crown". Being in Butyrskiy pre-trial detention center, Sumbat for his excessive use of drugs was suspended in his "thievish" authority; however, owing to his wide connections in criminal surroundings, he managed to reestablish the status, although he still hadn't given up his addiction.
Sumbat Abasov was one of Georgian thieves. This person seldom comes to mass media field of view, however, those happenings with his participation, described by journalists, undoubtedly, witnessed that Abasov had interests in criminal business of different countries in the world. Most probably, his "international expansion" was to a large extent promoted by well-known thief within the law Aslan Usoyan (Ded Hasan).
Source: http://www.russianmafiabos.com from 22.05.2008
Dossier:
First reference of Sumbat Abasov in mass media was in the beginning of 2001. Then in Georgian mass media appeared a short message, that on January 12th in Chitaya street by the officers of Didube-Chugureti Police department was detained "thief within the law", Sumbat Abasov, with 0,12 grams of heroin.
Source: Svobodnaya Gruziya, Tbilisi, 23.01.2001
On October 28th 2006 Sumbat was detained in Moscow near house №28 in Letchika Babushkina street by officers of department of struggle with organized crime of Directorate of Internal Affairs in Moscow North-East area. During body search 2.63 grams of heroin were found and confiscated from "thief within the law". On April 6th 2007 Moscow Babushkinskiy regional court returned Abasov guilty in crime by part 2 of the article 228 of Criminal code of Russian Federation and imposed him 4 years of imprisonment in a strict regime colony.
Source: http://www.russianmafiabos.com from 22.05.2008
In May 2008, according to IA "Prime Crime", 41 years old "thief within the law" Sumbat Abasov, imprisoned in the penal colony 6 of Service for the Execution of Sentences in Chuvashia Republic, was transported under guard to Kazan for further transportation to Verkhneuralsk prison. The decision about transferring Abasov to prison was done on April 23rd by city court of Novocheboksarsk. Being in colony Abasov regularly violated the regime because of his addiction to drugs; for that he was many times put to disciplinary cell.
In Verkhneuralsk prison, one of the most odious places of Russian penitentiary system, where were imprisoned criminals with numerous records for grave and the gravest crimes, for Georgian "thief within the law" would be more difficult to satisfy his harmful passion.
New term, as the previous two, Sumbat Abasov got for illegal possession of drugs.
To Novocherkassk "six", having in penitentiary system the reputation of exemplary colony, Sumbat came in July of the previous year, and very soon he realized that he wouldn't be able to organize there "thievish lead" alone and, moreover, nobody would let him change the tinge of the organization. On the other hand, it would be destructive for his not too big "thievish" authority to stay in "red" zone with the right of a big wig. Not a secret that some "thieves" with not irreproachable reputation during imprisonment try all-out to commit new crimes to pick up points. "Thieves" with the experience of imprisonment are more respected by their colleagues. It seems that following that logic Sumbat with no reason beat up one convicted, stepped on the way of recovery.
As a rule, "thieves within the law" personally don't beat "activists", but Ambasov obviously wanted to attract attention to him and to raise his suffered rating. The colony administration, seeing the zealous mood of their convict, didn't wait for new Sumbat's misconducts and directed him to a "closed" prison.
According to IA "Prime Crime", in May 2008 in different prisons of Russia were imprisoned six Georgian "thieves within the law": two and two in Balashov and Krasnoyarsk prison, one and one in Elets and Vladimir. Sumbat Abasov would become the seventh "thief", serving the term in prison.
Источник: http://www.russianmafiabos.com from 22.05.2008
Some days later journalists got interest again in Abasov. For example, they wrote that during the search of Georgian "thief within the law" Sumbat Abasov, following by transit through Ulyanovsk pre-trial detention center to Verkhneurals prison, was confiscated part of "common fund" cash and cell phone. Sumbat became aware of all "pleasures" of toughened regime on a way to the destination. According to IA "Prime Crime", cell phone and cash were passed to the "thief within the law" by one of the investigatory isolation ward officer, who was later proved guilty and strictly punished.
According to earlier "Prime Crime" information, on April 23rd Sumbat Abasov was transferred to prison regime by the decision of Novocherkassk court. On May 22nd he was sent to the dispose of Chelyabinsk region Service for the Execution of Sentences for further imprisonment in Verkhneuralsk prison. On the way to the destination Sumbat was left without prescribed "warming up", and only in Ulyanovsk "hoods" found possibility to "unfreeze" his leader. However, vigilance and professionalism of militia operatives led their efforts to nothing. Protesting against withdrawal from "thief within the law" of prohibited stuff, part of prisoners tried to press the administration by threat of mass mutilations, but that trick had no success.
According to "Prime Crime", in left by him Novocherkassk colony, Abasov also didn't manage to organize a strong back after him. Absence of "thief within the law" weakened the promotion of "thievish" way of life among the prisoners. According to printed media, after Sumbat left the penal colony № 6, some convicts from his earlier surrounding, overestimated their life ideals and applied for transfer from high security regime to working brigades.
Source: "Prime Crime" from 30.05.2008
In August 2009 journalists recalled Sumbat Abasov in regard of detention of thief within the law Kosta Bobokhidze. It was found out that Bobokhidze in a fact had to fulfill obligations of supervisor in Volga region instead of arrested Sumbat.
According to PR department of Ukraine Ministry of Internal Affairs in Sumi region, on August 19th in Sumi after operational search four citizens of Georgia of 21 and 67 years old were detained. All of them were members of criminal group, practicing thefts at the territory of Sumi region in Ukraine.
According to preliminary information, in June of the same year in Sumi criminals stole from car of local woman a bad with 20 thousand hryvnas. Moreover, in the evening of August 18th in one of the city streets the robbers picked two golden necklaces from Sumi citizen.
At the place of residence of the detained men militia officers found 10 cell phones, jewelry and gaz revolver of foreign manufacture.
According to IA "Prime Crime", the leader and ideologist of the crime group was 67 years old "thief within the law" Kosta Bobokhidze, well-known in criminal society as Givi or Dzakunia. Born in village Khomuli of Tskhaltubskiy region of Georgia, Kosta Bobokhidze earlier got to prison eight times and spent there thirty years of his life.
In times of Soviet Union Bobokha became famous because he went through all high security special zones for Solikamsk criminal society leaders and didn't refuse from "thievish traditions". Even the "architect" of notorious "White swan", Vasiliy Snytserev, acknowledged that he didn't manage to achieve the assigned aim in a work with Bobokhidze. After that Givi four times more was hold criminally liable for personal participation in grave crimes.
Only in February of the same year Dzakunia was released from not less odious place – investigatory isolation ward – 7 in Tbilisi, where up to 2007 he served three years term for theft, then two more years by brand new article of Georgian Criminal Code – for belonging to "thievish society". Older than Givi in the ward was only 70 years old "peace pigeon" Dzhemal Shavradze with the nickname Chai-Chai, who was released several months earlier for health reasons after 53 years old "thief within the law" with the nickname Shveik died in prison. One of the former "thieves", who lost his "thievish crown" while imprisonment in the investigatory isolation ward № 7, was committed to take care about appearance and hygiene of Bobokha and regularly provide him with everyday delicate services.
It was a success to find the old thief, wanted in Georgia for robbery, in his son's flat in Astrakhan in August 2004, where Dzakunia came soon after arrest of walking along Volga "thief within the law" Sumbat Abasov, and emerged in that regard problem of "thievish anarchy" in the region. In December of the same year Bobokhidze was extradited to Georgia by transit through one of Moscow investigatory isolation wards.
Source: "Prime Crime" from 24.08.2009
How serious Russian law-enforcement authorities take Sumbat Abasov , for example, indicates the following episode. In autumn 2010 was held a briefing with participation of Lipetsk region Directorate of Internal Affairs management.
"In Lipetsk region now there are no "thieves within the law", reported Head of local department of Directorate of Internal Affairs Alexander Abramov. On the region had claim a "thief in the law", born in Poti of Georgian SSR Dzhumber Bayramidi (criminal nickname "Boncha"), ethnic Greek, 1977 year of birth. He was registered in Yarkulovo village of Gryazinskiy region. He was deprived of registration, then together with colleagues detained in Moscow and deported to the motherland Georgia. One more candidate for the position of "thief within the law" in Lipetsk region was Kakha Makalatia (criminal nickname "Kakha"). He was born in 1971 in Zanati village, Abash area Georgia Republic. In the area he was registered also in Gryazninskiy region in Yarlukovo village. Kakha was also taken off the register records and together with Ukrainian colleagues deported to Georgia.
According to Alexander Abramov, in October 2010 in Eletsk court was tried a case of a "watching" Eletsk 61 years old Igor Gotovkin (criminal nickname "Elder Gotovkin"). He was for a long time in a view of Lipetsk Department for Organized Crime Control. Gotovkin was detained for racket. In court he was charged by part 2 of the article 163 of RF Criminal Code.
Also in Eletsk prison № 2 that time were imprisoned three "thieves in the law", transferred to serve the term from other regions of the country. Those were 44 years old born in Tbilisi Sumbat Abasov (nickname "Sumbat"), born in Guturi 50 years old David Chkhikvishvili (nickname "Dato Surgutskiy"), and also 37 years old born in Tbilisi Georgiy Akoev ("Giya Sverdlovskiy"). Officers of special investigative department № 2 declared that followed the situation around "thieves within the law", serving their terms in the region.
Source: www.gorod48.ru from 07.10.2010