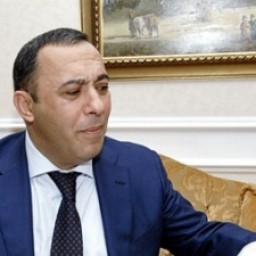 Biography
Tigran Nersisyan was born on 26 March 1966 in Yerevan, Armenian SSR. In 1989 he graduated from Lvov Trade and Economic School. Later he joined Boston University, where he received MBA degree. In 2003 at the Academy of the Interior Ministry of Russia he submitted his doctoral work on state regulation of consumer market. In 1993 he started his career as a manager and worked for several enterprises, later incorporated in Borodino Group.
Since 2000 he has been president of Borodino Group. In 2008 he won Entrepreneur of the Year national competition conducted by Ernst & Young international accounting firm. In 2009 he joined Forbes Russia's Golden Hundred
Source: Wikipedia

Dossier
In 1993 Nersisyan arrived in Russia. He took up his residence not in Moscow but in a small town nearby, called Mozhaysk. He headed an accessory workshop at Borodino collective farm. Nersisyan briefly commented on his at first glance strange choice "I learned from friends that the farm needed managers which would be able to establish production lines." From the Soviet period the Mozhaysk farm had a small factory with old equipment, but the factory stopped functioning when market reforms began. Tigran Nersisyan proposed to farm chairman Viktor Lapkin to establish carbonated beverages production lines there.
Source: Kompaniya, 17 May 2004

According to media reports, Borodino, whose beneficiaries are Tigran Nersisyan and Viktor Lapkin, owns 39.5% of Svyaz-bank's shares. The bank is patronized by Leonid Reiman, the former Minister of Communications.
Source: Vedomosti, 23 July 2009

Borodino Group did not pay off a loan to Svyaz-bank, and in early June 2010 the bank filed five lawsuits against Borodino's enterprises to Moscow Arbitration Court. All of the lawsuits were related to the default of loan obligations and bonds redemption. Since January 2010 contractors have filed over 40 lawsuits against Borodino to the sum of more than 35 million rubles. Total debt amount remained undisclosed.
Source: Slon.Ru, 5 October 2010

In 2010 posters appeared in the streets of Moscow which proclaimed "For Sale: a 81 million debt of Borodino Group's owner Nersisyan ''.
Potential buyers were invited to contact Stolitsa leasing companies group. On its website, it was reported that Nersisyan's personal surety contract was on sale "in connection with Borodino's regular failure to fulfill financial obligations.'' It is unlikely that the lender really expected to find buyers for Nersisyan's surety, when starting such an advertising campaign. But soon Stolitsa posted the words "Debt repaid. Thank you, Tigran!" on its website, crossing the previous announcement.
Source: BFM.Ru, 10 June 2010

Borodino's owner Tigran Nersisyan filed a claim for defamation against the Joint collecting and factoring company. He demanded compensation and protection of his ''honour, dignity and business reputation''. The reason for the claim was an online announcement about Nersisyan's debt of about 157 million rubles. The lenders went to such an expedient because they lost hope to get their money back from Nersisyan. Site visitors could see a dramatic charity event announcement "Good people! Please help Mr. Tigran J. Nersisyan, an oligarch, to repay his debts. 156,999,322 rubles is such a trifle. 1 ruble 11 kopeks from each citizen of Russia - and the debt will be repaid." All those who wished to help were invited to transfer money to the lender's account in Metcombank. Nersisyan's lawsuit stated that ''the information was spread in an offensive manner as a fund raising announcement in favour of the plaintiff to pay off the debt''. Nersisyan estimated the damage to his honour, dignity, and reputation at 550 million rubles. During informal discussions collectors, who had already despaired of getting their money back, continued to mock the plaintiff in an offensive manner. ''Who would have thought that he had ever had honour and dignity?'', they said.
Source: Marker, 28 December 2010

On 1 November 2010, Petroff-Bank, incorporated in Borodino Group, was stripped of its charter for "regular violations of federal laws, as well as regulations of the Central Bank. Capital adequacy of Petroff-Bank fell below the allowable 2%, the bank did not fulfill its obligations to creditors on time and pursued risky lending policies." As of 1 October 2010, Petroff-Bank owed 3.8 billion rubles to the Bank of Russia, and by 1 September its overdue debt had been 150 million rubles.
Source: RIA Novosti, 1 November 2010

In 2011 it became known that several holding companies owned by Nersisyan's Borodino Group were about to pass under the control of his creditors, Stolitsa leasing companies group. Finally, Stolitsa secured an observation procedure for Borodino where the manager was appointed at the lender's option, while the leasing company filed a lawsuit for KZMI's bankruptcy to Arbitration Court of Tver region.
Source: Izvestiya, 19 September 2011

In 2010 the Bank of Russia demanded prosecution of Tigran Nersisyan, the former chairman of the board of directors of Petroff-Bank, but so far the bank's claim has not been satisfied. Investigators of Moscow region twice made the decision not to initiate criminal proceedings against Nersisyan. They knew that in summer 2010 Tigran Nersisyan had signed a guarantee agreement with the Central Bank for $ 4.2 billion but had not fulfilled his financial obligations even after Mozhaisky court decided that Nersisyan must be exacted 3.86 billion rubles in favour of the debt guarantor, while Narsisyan's property must be arrested.
However, investigators of Mozhaisk district stated that they were not al to institute a criminal case against Nersisyan since, according to preliminary investigation, he did not live at the place of his official residence. It was found that last time he came there 15 years ago. Unified state register of legal entities of Moscow region has no information about Nersisyan either. According to the report of 1 April 2011, he is neither a founder, nor a member, nor a director of any organization.
Source: RBC daily, 19 September 2011

Arbitration Court of Moscow region granted Stroystayl's LLC bankruptcy claim against Construction Company LLC, included in construction division of Borodino Group. The court initiated six month bankruptcy proceedings against the debtor, and appointed Irina Bolshakova as company's bankruptcy trustee. The register of creditors included claims for 13.45 billion rubles.
Source: RAPSI, 31 October 2011