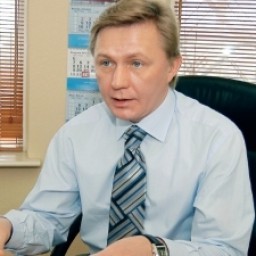 Biography
Vadim Vikulov was born on 24 October 1963 in Leningrad. His father was a serviceman.
After graduation he worked for Sovfracht shipping company that serviced the USSR foreign trade companies.
From 1991 to 2000 he worked as an executive for various Soviet and Russian foreign organizations.
In 2000 he moved to Rostov-on-Don and chaired the board of Aston agro-industrial corporation.
Vikulov is married and has four children.
He a member of the board of trustees of St. Seraphim Sorovsky Temple.
Source: whoiswho.su

Dossier
On 17 April 1983 the marriage of Vadim and Olga Vikulovs was registered in their presence at St. Petersburg registry office.
In 2005, the presence of Vikulov's wife was not necessary to dissolve the marriage, in which
four children were born. Only two years later Olga Vikulova learned about the divorce.
In 2007 Olga Vikulova applied for cancellation of the default judgment but Kuntsevo district court rejected her claim. Only two months later Moscow City Court quashed the decision of Kuntsevo district court and sent the case back for reconsideration in the new panel of judges to the court of the first instance.
In the two years that the marriage was considered dissolved Vadim Vikulov had married for the second time. His new wife Tatiana is not a public person; it is only known that she has a baby daughter now brought up and financially supported by Vadim Vikulov.
Olga Vikulova wrote in her application statement "On 9 February 2005, in Hamburg, our son Anthony was born. At filing a claim, as well as during judicial proceedings the plaintiff had concealed this fact from the court, moreover, he had not specified in his statement of claim that we had another child, Sergei, born in 2000. "
Source: Izvestiya, 7 December 2007

In 2010 a criminal case on charges of inventors' and patent rights violation was instituted against Aston public corporation. According to the RF Interior Ministry's economic security department, the inspection that revealed the violations was made after the claim by Pavel Tokarev, the general director of Ecologist Science and Technology Centre. Tokarev stated that Aston illegally used his patented method of refining vegetable oils at Morozovsk oil extraction plant. It was found that since April 2009 Aston had been illegally using this technology at an oil extraction plant in Morozovsk, Rostov region. Experts believed that the conflict could even result in a governmental scandal.
Source: DonNews, 08 December 2010

In 2010 Aston made 'a preliminary agreement on purchasing a close to 100% stake in Russian Starch Products industrial group (RSP). The deal included shares of RSP and two plants, Ibredkrahmalpatoka and Novlyanskaya starch and molasses factory. By that time, at the end of 2008, Nataliya Dubovitskaya, the wife of President's Deputy Chief of Staff Vladislav Surkov, had become one of the shareholders of both plants. However, on 31 December 2009 her name disappeared from the list of affiliated persons. And nevertheless, according to SPARK, on 30 September 2010 Dubovitskaya owned 19.66% of Ibredkrahmalpatoka. In late 2009 she was RSP's deputy general director responsible for public relations.
Source: Vedomosti, 22 March 2011

In 2004 Vladimir Vikulov headed Investments Development Agency of Rostov region which for a few years had been a monopolist in this field. In early 2010, Sergei Gorban, the first deputy governor, criticized the agency, stating that substantial part of its development projects had been only on paper. Gorban said that the agency ''will probably have to replace some of its executives''. Lobby discussions were held on the scenario of establishing a new agency, which would be managed by other executives. The most eloquent testimony to the fact that these conversations are close to reality, is the absence of IDA's representatives at the March meeting of Investment Council under the governor of Rostov region, and, what is even more important, the absence of a starch and treacle plant being built by Aston in Novoaleksandrovsk industrial zone in the first proposal list of ''a top hundred of governor's investment projects''. The projects in the list receive public support and a number of benefits. There can be three reasons for the absence of Aston's project in the list: either there was no claim from the company, or the project is not considered a priority for the region, or it is just a technical error. But the first two reasons would indicate the tension between the regional administration and Aston company.
Source: Ekspert Youg, 4 April 2011