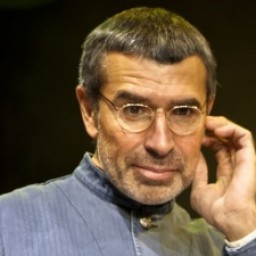 Bio:
Vladimir Avetisyan was born on 2 April 1958 in Novokuibyshevsk city. He graduated from Kuibyshev
Civil Engineering Institute in 1980.
In 1980 he became a master and a foreman at a mobile mechanized column of Kuybyshevselstroy office.
In 1984 he became a superintendent, and then the chief engineer, then the director of construction and assembly department at Vostokstroytransgaz trust.
In 1986 - 1991 he was the chief engineer and the director of Uralspetsstroytransgaz trust.
In 1991 - 1993 he was the first deputy director -general responsible for supplies, transport and business activity of Samaratransgaz enterprise.
In 1993 he initiated the establishment of Volgopromgaz Association of Business Cooperation public corporation and since has been its board chairman.
In 1999 he was appointed first deputy director -general of Samaraenergo. In October he became the acting director-general, and in December 1999 he was confirmed as director.
In November 2000 he was appointed director of Srednevolzhskaya interregional managing energy company (SIMEC) and at the same time he became the director of Samaraenergo.
Avetisyan is a member of the Economic Council under the Governor of Samara region.
In 1998 he was elected board chairman of Novokuibyshevsk Petrochemical Plant. He is a deputy board chairman of Gazbank and Volga-Kama Interregional Reconstruction and Development Bank.
Avetisyan is a board member of Samara airport, Samara airline, and Volga Hydroelectric Power Station.
Source: Biografiya.ru

Dossier
In spring 2008, one after another, officials close to mayor of Samara Viktor Tarkhov got legal troubles, which gave rise to political scientists to suggest that in fact criminal cases against the officials and regular searches at City Hall offices was a prelude to a forthcoming dismissal of the governor, who had taken a high position in Just Russia party.
Tarkhov's deputy Dmitry Azarov, who started his career at Volgapromgaz company, was reported to be his most probable successor. It was Volgapromgaz that was rumoured to put pressure on Tarkhov. The company's political interest in Samara and the whole Samara region has been confirmed in a recent interview of its actual owner Vladimir Avetisyan, a board member of the RAO UES of Russia. When interviewed, Avetisyan said that he was planning to return to Samara, where he expects to do his best to benefit to the city and the region.

It was not the end. Vremya, a Samara newspaper issued by Andrei Shokin, the owner of RBE Group, published an article under the headline Our Mayor Avetisyan. With a reference to a well-informed political source, the article said that the authorities had allegedly made a decision on who would lead Samara after Tarkhov's anticipated resignation.
Source: APN.Ru, 4 June 2008


Dmitry Azarov, a candidate from Volgopromgaz company, was elected mayor of Samara, which
was associated with a number of scandals. Azarov was not an independent political figure, as he represented interests of Vladimir Avetisyan, a former board member of RAO UES and the then director-general of Autocomponents holding , established by Russian Technologies and AvtoVAZ ; Avetisyan controlled Volgopromgaz company as well. With such a support, Azarov was able to easily gain almost 70% of the vote.
Azarov owes his victory to Avetisyan who managed to make a deal with Governor Vladimir Artyakov. In fact, Azarov was "an agreed candidate" both from the region administration and Volgopromgaz. It was rumoured that Vladimir Avetisyan had persuaded Artyakov to appoint Azarov as minister of natural resources. Interestingly, Aleksander Fedorov, the former minister, had unexpectedly resigned "on his own request ". It is rumored that his resignation was related to the detention of Deputy Minister Kadriya Korovyakovskaya and Chief Adviser to the Ministry Valery Shashkin when receiving a one million rubles bribe.
Thus, the regional ministry of natural resources has become a bribable and, therefore, profitable agency. It is no surprise that Mr. Avetisyan, apparently, wanted to appoint his own man as minister there. And then he actually lobbied Azarov as mayor of Samara, although, in this case, there was a certain controversy. Indeed, ballot stuffing was revealed in the Leninsky district of Samara. On experts' belief, this fact proves that the elections in Samara were held with obvious violations. And, besides, the rigging appears to have been in favor of United Russia.
Source: The Moscow Post, 11 October 2010


On 25 June, as part of a Youth Day celebration, an extreme hobbies festival is held at Kuibyshev Square in Samara. In the evening there will take place a concert of local music bands, including D'Black that is sure to be the headliner. Its lead singer is Vladimir Avetisyan, a well-known Samara businessman, a former top manager of the RF RAO UES, and now an adviser to the director-general of Russian Technologies. The day before the concert Avetisyan met with Samara reporters at the regional drug prophylactic, where he held a charity event, namely, a concert for hospital patients.
Vladimir Avetisyan, despite his high position and wealth, has recently taken a great interest in music. His group has become Russia's only official tribute of Eric Clapton's work, while Avetisyan has become an avid claptoman.
Source: Volga News, 25 June 2011



On 11 October 2011, Richard Gere sold his collection of guitars. In New York, at Christie's auction house, 110 lots were offered for sale. On 12 October, receipts were disclosed: they totaled nearly $ 1 million ($ 936,500). One of the main buyers of guitars, amplifiers, and other lots was Vladimir Avetisyan.
Source: dp.ru, 14 October 2011