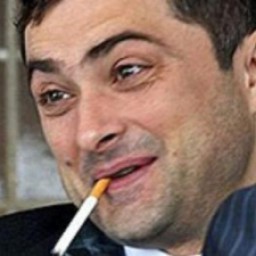 Bio:
Vladislav Surkov was born on 21 September 1964 in Solntsevo village, the Lipetsk region. According to other sources, he was born in 1962 in Duba-Yurt village, the Chechen-Ingush Autonomous Republic. When Surkov was five years old his mother and him moved to Skopin city in the Ryazan region. In 1982-1983 he studied at the Moscow Institute of Steel and Alloys but then applied for a discharge. In 1985 -1988 Surkov studied at the faculty of mass perfomance direction of the Moscow Institute of Culture but was expelled for a fight with a fellow student. In 1999 he graduated from the International University in Moscow.
In 1983 - 1985 he served in the Soviet Army, in an artillery unit of the Southern force group in Hungary. However, on 12 November 2006 Russian Defense Minister Sergei Ivanov disclosed secret information: Surkov served in the special mission unit of the Main Intelligence Directorate.
In 1987 he headed an advertising department of the interdisciplinary research centre under the Frunze district committee of Komsomol. The centre was directed by Mikhail Khodorkovsky.
In 1988 he headed Metapress market communication agency.
In 1992 he was president and vice-president of the Russian Association of Advertisers.
In 1991-1996 he held executive positions in Menatep Group of companies also managed by Mikhail Khodorkovsky, subsequently in Menatep Bank.
In 1996-1997 he was a deputy director, then the head head of PR department of Rosprom closed corporation and first deputy chairman of Alfa Bank.
In 1998-1999 he was the first deputy director-general and PR director of Russian Public Television public corporation.
In 1999 he became an assistant head of the Presidential Administration.
In August 1999 - March 2004 he was a deputy head of the Presidential Administration.
In March 2004 he became a deputy head of Russian Presidential Administration and an assistant to the President of the Russian Federation.
In August 2004 he joined the board of directors of AK Transnefteprodukt public corporation and in September 2004 he was elected chairman of the board of directors.
On 15 May 2008 Surkov was reappointed first deputy head of the Presidential administration. This time the president was Dmitry Medvedev.
In June 2010 he joined the board of trustees of Skolkovo foundation.
Awards:
Order for Merit to the Fatherland 3rd Grade (2003)
Medal of Pyotr Stolypin 2nd Grade (2011)
Letter of Commendation from the RF Central Election Commission (2008)
Surkov's first wife, Yulia Vishnevskaya, a sister of Anatoly Chubais' wife, founded a puppet museum. Since 2004 Yulia and Surkov's son have been living in London.
Surkov has three children by his second wife Natalia Dubovitskaya.
In 2010 Surkov earned 4.5 million rubles. His wife's income was 81.1 million rubles.
Source: Wikipedia




Dossier:
When a student, Surkov earned his living from making jeans that were hard-to-get at that time and from hack writing for enterprising publishers of Vladimir Gusinsky's team. He wrote romance novels full of teasing erotic scenes like "She put her arms around his knees and his hard penis --" They were very popular as during the Soviet period people could only read flat books censored by the Communist party.
Source: Stringer, 25 June 2003

Since the very start of his advertising career Vladislav Surkov preferred to take a shortcut in settling issues. Thus, in 1990 he paid a tidy sum to editors of Stolitsa magazine for promotion of Menatep Group. That kind of activity was not legally regulated at that time so both publishers and advertisers acted at their own risk.
Source: Kommersant, 2 July 2008

By the first half of 1990 lobbying practice had not been integrated in the State Duma yet. Since the Soviet time there had been a simple game plan left: a faction leader was summoned to the Kremlin, told what to vote for and promised a recompense and a kickback. Everything else went without system. Surkov and his associate deputy Vadim Boiko were rumoured to develop lobbying tactics and price list for services offered by Parliament members. The duo put it on a scientific basis and organized complicated and multilevel lobbying system.
Source: Stringer, 25 June 2003

In 1997 Surkov felt unappreciated and asked management of Menatep Group and Mikhail Khodorkovsky personally to make him a partner, let him took part in managing the group and raise his award fee for each official bribed. Khodorkovsky flatly refused to do that. Being too ambitious, Surkov quit Menatep Group. Since then his rancor has been much spoken about.
Source: forum-msk.org, 21 December 2005

While working for the TV company owned by Boris Berezovsky, Surkov said, "It's a myth that Boris Berezovsky does what he likes. The more so because Berezovsky is not a man of the conflict. On the contrary, he tries his best to avoid all these wars in future.''
Later, when invited to the Kremlin with Berezovsky's assistance, he had a hand in driving him out of media space. In 2002 Surkov said, ''Berezovsky seeks for a conflict. Obviously, he finally realized that he would get nothing from the people close to the president and went to the provinces to foment a rebellion."
Source: Moskovskiye Novosti, 19 February 2004

In autumn 1999 experts called Surkov "a brilliant communicator " and "a creative PR expert and consultant able to anticipate certain events." Surkov's first brainchild was reported to be Unity election bloc founded in 1999 as a counterweight to Yevgeny Primakov's and Yuri Luzhkov's Fatherland is the whole Russia bloc that was gaining popularity at the moment. Actually, Surkov borrowed an idea of ​​establishing a powerful alliance of the regional officials loyal to the Kremlin from Boris Berezovsky and former deputy head of Presidential Administration Sergei Zverev.
After Unity had allied with Fatherland Surkov, while speaking at a meeting of Fatherland's members in July 2001, said that at last it was possible to correct " a historic mistake" and to overcome the "cleavage" between Unity and Fatherland which had formerly been political opponents. In 2003 the bloc was renamed as United Russia political party. Surkov at the same time was called a co-founder and the main ideologist of United Russia as a "party of the power". Surkov was also said to lead the party to victory in parliamentary elections in December 2003.
Source: RIA Novosti, 11 July 2001, Political news Agency, 22 April 2005

Surkov was directly involved in establishing several youth movements in Russia. For instance, he was associated with Going Together pro-presidential youth movement founded in 2000. The movement was headed by former employee of the Presidential Administration Vasily Yakimenko. The first major event arranged by Going Together was a meeting held in the centre of Moscow on 7 November 2000. The movement brought together about 6000 people who called upon for "no drinking", "no smoking", "no using dirty language" and for ''supporting Vladimir Putin''. Going Together was reported to be "a failure" as the movement became notorious for its narrow-mindedness and eventually began to discredit Putin in the opinion of both domestic and world public. Going Together was reported to be founded only for money making.
Source: Kommersant, 21 February 2005

In 2005 The Ours movement was established to replace Going Together. On 21 February 2005 in St. Petersburg Surkov and Yakimenko met with "commissars" of the new youth movement. They tried to avoid the attention of mass media.
Surkov and Yakimenko promised to their supporters that by 2008 a new "party of the power" would be founded on the basis of The Ours. They emphasized that their plan had been approved by Vladimir Putin.
In summer 2005 3000 activists from 45 regions of Russia gathered at the camp of The Ours on Seliger lake. Advisor to the head of the Presidential Administration Gleb Pavlovsky arrived at the rally and urged the activists to be ready "to resist physically attempted unconstitutional coup". Surkov, in turn, said, "Grow up quickly and we will give you the country." The Ours soon got low reputation and, in fact, repeated all the mistakes of Going Together.
Source: Polit.Ru, 16 December 2005

Surkov's original philosophy is that there is no freedom in the world. He believes that all democratic systems are actually manageable, so that the key to success is the ability to influence people giving them an illusion of freedom despite virtual governance. According to Surkov, the only freedom is "the artistic one''.
And so in 2006 Surkov developed an unconventional concept of "sovereign democracy" and took part in establishing the second wing of the political system in Russia, Just Russia, that was to become a party to a full-fledged two-party system. It is therefore suspected that Surkov contributed to liquidation of Yukos in 2003. His grudge against Khodorkovsky only aggravated the conflict, but the real reason was Khodorkovsky's attempt to finance SPS opposition party and the Communist Party, that is, to beat Surkov.
Source: Kommersant, 22 November 2010

In 2011 Surkov masterminded the ban on initial public offering of the securities of Domodedovo international airport in London. Government bodies had been coming on the largest private airport in Russia since summer 2010 when Master Bank, which serviced Surkov's agencies, refused to meet their credit obligations attached to the securities of a contractor of Domodedovo airport for about $ 1 billion rubles.
The largest action of the campaign against the owners of Domodedovo was a terrorist attack at the airport on 24 January 2011 in which 35 people were killed. A few hours later Surkov's analysts reported to president Medvedev that primary responsibility for making the attack possible should be imposed on the airport administration. The report seemed to be carefully prepared beforehand.
Surkov was rumoured to plan bringing a network of Moscow airports under a single control, so he sought to take Domodedovo from its current owners. It was said that Surkov was going to leave the Kremlin in 2012 therefore he tried to arrange for himself a job as a manager of the united network of Moscow airports.
Source: Stringer.Ru, 31 May 2011